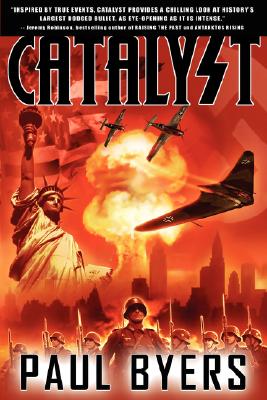 Catalyst (Paperback)
Breakneck Books, 9780979692932, 275pp.
Publication Date: October 1, 2007
* Individual store prices may vary.
Description
In the waning months of World War II, the allied armies advance upon the crumbling German war machine like a juggernaut. In a final desperate bid to save the Fatherland, a plan is conceived that could turn the tide of the war-the completion of an advanced jet-propelled bomber capable of delivering a deadly payload to the shores of America. Captain Griff Avery of the OSS has just botched the defection of a prominent German physicist, a man crucial to the Nazi end game, letting him fall into the hands of the rogue SS General masterminding the plot. But Avery's troubles have only just begun: overwhelming evidence points to the woman he loves as the German spy who foiled the defection. Now under suspicion himself, Avery sifts through the lies and deceit, uncovering the treacherous German operation. Against orders and on the run, Avery is forced to wage a secret war of his own, recruiting the crew of a B-17 Flying Fortress and a reckless group of flyboys and their P-51 Mustangs to help him hunt down the secret SS cell and prevent the slaughter-no matter what the cost.

or
Not Currently Available for Direct Purchase