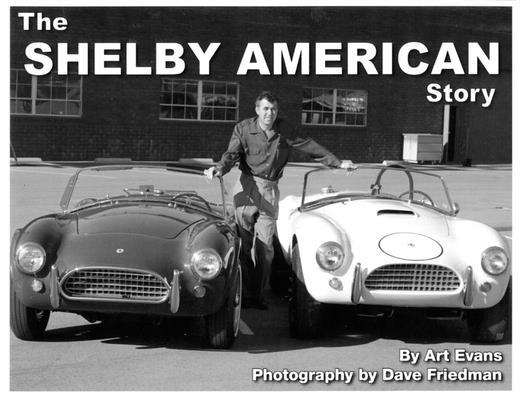 The Shelby American Story
Paperback

* Individual store prices may vary.
Description
The Shelby American Story is about the decade of the sixties. Carroll Shelby is world-renowned for developing the Shelby Cobras and Mustangs as well as the Ford GT racing program. Prior to this, however, Shelby was a championship race driver, culminating in 1959, when he and his co-driver, Roy Salvadori won Le Mans, the World's premier road racing event.

Forced to retire from racing due to ill health, Carroll got the idea of installing small-block American V-8 engines in a light-weight sports car. The English AC had a beautiful body and good-handling characteristics, but a somewhat anemic power plant. Shelby discussed the idea with Charles Hurlock of AC and a roller was shipped to Shelby who installed a 260 cid Ford V8. The first car was finished in early 1962. Renamed the Cobra, Shelby's creations were beginning to appear at race courses by the end of 1962. A sufficient number of cars were built for the FIA to recognize the Cobra as a production (GT) car. Cobras dominated the GT Class in racing for much of the decade, winning Le Mans and Sebring in 1964. In 1965, Cobra Daytona Coupes won the World Manufacturers' Championship. After some success installing Ford V-8s in Cooper Monacos (the King Cobra), Shelby teamed with Ford to pursue the triple crown of sports car racing: Le Mans, Sebring and Daytona. Success finally came with the Ford GT in 1966 and then again in 1967. This book tells the entire story including accounts of the most significant races, the engineering and development of the cars as well as something about the outstanding individuals involved with Shelby during the era. It is a must have for all autosports enthusiasts as well as those interested in the history of cars and racing. But most of all, it is essential for the many Shelby fans throughout the world.
Enthusiast Books, 9780979721939, 128pp.
Publication Date: October 15, 2019
About the Author
Art Evans has a varied and extensive background. During the fifties, he and his partner, OCee Ritch, had a public relations and advertising company that represented the MG Mitten Company, Devin Enterprises and Gough Industries among other car-related organizations. The author of ten books about photography plus others on different subjects, Evans has written numerous articles for photography and automotive magazines as well as professional journals. In addition, he has written eleven books about motor racing. In retirement, Evans pursues pastimes including writing about the fabulous fifties and serving as secretary and newsletter editor of The Fabulous Fifties Association.
Dave Friedman was Shelby American's official photographer in the 1960s, accompanying the team to races all around the world. He is a longtime motorsports and film-still photographer and the author of several motor racing books, as well as a photography contributor to dozens more. Friedman lives in Newport Beach, California.