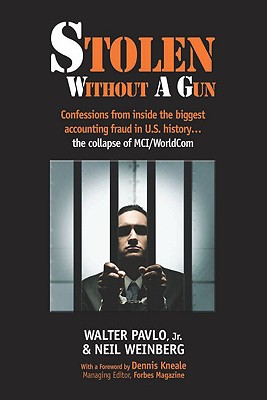 Stolen Without a Gun (Hardcover)
Confessions from Inside History's Biggest Accounting Fraud - The Collapse of MCI WorldCom
Etika Books, 9780979755804, 285pp.
Publication Date: September 1, 2007
* Individual store prices may vary.
Description
Walter Pavlo, Jr. was a young MBA rising quickly through the finance ranks at the nation's second largest telecom company. With a beautiful wife, two kids and a promising career, he epitomized the American dream. Pavlo's life took a dark turn when he became a willing participant in the company's efforts to hide from investors and potential acquirers a mountain of bad debt run up by mobsters and other unsavory customers. Encouraged by higher-ups, Pavlo became accomplished at accounting gimmickry. Then the jaded young executive consorted with a colorful scam artist and others to use some of the same ploys he'd devised for his employer to enrich himself at its expense. A ruse born of disillusionment and greed turned into a nightmare for Pavlo after he was caught and forced to choose--rat on his buddies or spend decades rotting in prison. His crimes ultimately cost Pavlo his freedom, family, reputation and self-respect. Only later did he recognize that his original sins were part and parcel of the corruption that led to an historic collapse for his company, his industry and of public confidence in corporate America. With humor and raw honesty, Pavlo and award-winning Forbes senior editor Neil Weinberg use this compelling personal story to portray in intimate detail the pressures millions of white-collar workers face every day.
About the Author
Walter Pavlo, Jr. oversaw a $2 billion operation at MCI Communications before being caught embezzling $6 million. Since his 2003 prison release, Pavlo has made his living giving cautionary speeches on his crimes and the environment that bred them. His audiences have included the FBI, universities, professional societies and corporations. He has been featured in "Forbes, " the "New York Times, " the "Wall Street Journal, USA Today" and on ABC's Nightline. Pavlo holds engineering and MBA degrees. Neil Weinberg is a Senior Editor at "Forbes" in New York. A fifteen-year veteran of the magazine, he has covered Wall Street, telecom and Asia. Weinberg originally profiled Pavlo's crimes in "Forbes" after receiving a letter from him in prison. In 2006 he received the Overseas Press Club's annual award for the best business story in a magazine. Weinberg holds a bachelor's degree in English Literature and an MBA.
or
Not Currently Available for Direct Purchase