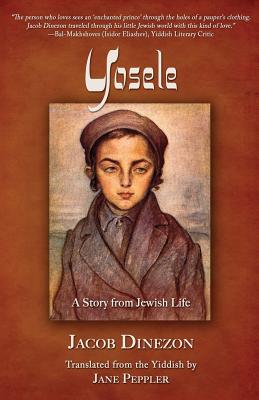 Yosele (Paperback)
A Story from Jewish Life
Jewish Storyteller Press, 9780979815638, 140pp.
Publication Date: February 25, 2015
* Individual store prices may vary.
Description
YOSELE, Jacob Dinezon's short novel published in 1899, exposed in stark detail the outmoded and cruel teaching methods prevalent in the traditional cheders (Jewish elementary schools) of the late 1800s. Writing in Yiddish to reach the broadest Jewish audience, Dinezon described with all the pathos of Charles Dickens, the sad, poverty-stricken life of a bright and gentle school boy whose violent treatment at the hands of his teacher, parents, and society is shocking and painfully heartrending. The outrage that resulted from the story's initial publication produced an urgent call for reform and set the stage for the beginning of a secular school movement that transformed Jewish elementary education. This first-time English translation by Jane Peppler presents a rare and vivid picture of Jewish life in Eastern Europe at the turn of the twentieth century. An excellent resource for classes in Jewish Studies, Yiddish literature, and Eastern European History.