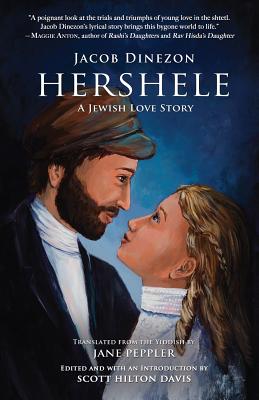 Hershele (Paperback)
A Jewish Love Story
Jewish Storyteller Press, 9780979815676, 182pp.
Publication Date: August 1, 2016
* Individual store prices may vary.
Description
When Hershele, a poor but brilliant yeshiva student, is invited for a weekly charity meal by a rich widow, he comes face-to-face with Mirele, the widow's pretty, bright, and strong-willed daughter. As the two innocently come to know each other, they fall in love. Are they "bashert"-soul mates destined to be together? Or will rigid class differences, shtetl politics, and a ruthless marriage broker tear them apart? This bittersweet love story, written in 1891, provides a vivid and insightful exploration of our great-grandparents' lives in 19th century Eastern Europe: how they lived, how they loved, and how they tried to remain faithful to their Jewish way of life in the face of modern ideas and a changing world. "A poignant look at the trials and triumphs of young love in the shtetl. Jacob Dinezon's lyrical story brings this bygone world to life." -Maggie Anton, author of Rashi's Daughters. Jacob Dinezon (1852?-1919) is considered the "Father of the Jewish Realistic Romance." Translated from the Yiddish by Jane Peppler and edited by Scott Hilton Davis.