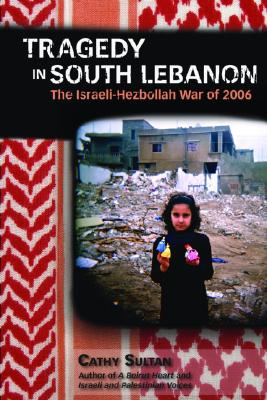 Tragedy in South Lebanon (Paperback)
The Israeli-Hezbollah War of 2006
Scarletta, 9780979824913, 172pp.
Publication Date: June 1, 2008
* Individual store prices may vary.
Description
Through history, research and personal interviews, Cathy Sultan chronicles life in southern Lebanon and northern Israel during the brutal war of the summer of 2006. As in her other critically acclaimed books, Sultan focuses on ordinary people, who are overlooked by politicians and military leaders and become victims of poor decisions made by the governments of Israel, Lebanon and the United States.

She vividly portrays the polluting effects of cluster bombs and explains how different factions within the Lebanese government keep it on the brink of further violence. She writes of the tiny Shabba Farms area's importance to Hezbollah and of the refugee camp that holds members of Fatah al-Islam, a Sunni militant group, despite efforts of the Lebanese army. Sultan also addresses media treatment of the war, dispels common myths about the region, and includes a timeline of Lebanese history, and maps depicting violence around the area.
About the Author
Cathy Sultan is also the author of "A Beirut Heart" (Scarletta Press, 2005) and "Israeli and Palestinian Voices: A Dialogue with Both Sides" (Scarletta Press, 2006). She sits on the Executive Board of the National Peace Foundation, where she directs Middle East educational projects. She is also involved with "Women in Black," a group that stands in silent vigil to protest war, ethnic cleansing and human rights abuses. She and her husband currently live in Eau Claire, Wisconsin.
Praise For Tragedy in South Lebanon: The Israeli-Hezbollah War of 2006…
Tragedy in South Lebanon received Honorable Mention in ForeWord Magazine's Book of the Year awards in the Political Science category.

Finally finally finally there is a book that looks at the complex issues in Lebanon for what they arecomplex. And even more importantly, Sultan has taken her experience and transported all of us into the region to better understand the complexities from the people themselves." Jack Rice, journalist and former CIA officer

Sultan gives a fair and accurate account of what went on in South Lebanon. As a UN official who has spent 24 years in South Lebanon, I say she also lends refreshing voice to those who would otherwise never be heard." Timur Goksel, Senior Advisor and Official Spokesman for the United Nations Interim Force in Lebanon

"This is an important book that should be read by anyone interested in Israel and Lebanon." Reese Erlich, foreign correspondent and author of The Iran Agenda: The Real Story of US Policy and the Middle East Crisis
or
Not Currently Available for Direct Purchase