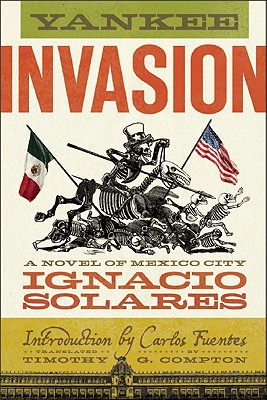 Yankee Invasion (Paperback)
A Novel of Mexico City
Scarletta, 9780979824944, 237pp.
Publication Date: May 26, 2009
* Individual store prices may vary.
Description
Yankee Invasion centers on one of the most traumatic periods of Mexican history: the 1847 invasion of Mexico City by American armed forces and the ultimate loss of almost half its territory to the United States. Abelardo, who as a young man witnessed the events, narrates the novel and in its very first pages commits an act of resistance that will haunt him the rest of his life. In his old age, he begins to reflect on the history of Mexico, as well as his complicated love affairs with both his fiancée and her mother, which play out against the tumultuous backdrop of the invasion and occupation. Told with humor and pathos, Yankee Invasion paints a riveting portrait of an event that, though little known in America, still reverberates in Mexico today. Vivid descriptions capture the streets, cafés, cantinas, and drawing rooms of 19th-century Mexico City.
Praise For Yankee Invasion: A Novel of Mexico City…
"There's nothing subtle in the presentation of Solares' note-worthy, unsettling, newly translated book about the 1847 U.S. takeover of Mexico City.Men of thought versus men of action, personal ambition versus the common good, outside forces exploiting national disunityIt's impossible not to read contemporary implications into this text." Christine Wald-Hopkins, Tuscon Weekly

"...a worthwhile endeavor..." Michael Sedano, La Bloga

"Ignacio Solares has written a riveting tale about the events surrounding the Mexico City invasion during the 1800s...Although a fictional tale, Yankee Invasion captures the trueness of the war, the experience by Mexican soldiers and the effect it had on the lives of those living in Mexico." Linda Wagner, History Professor

"The whole point of this novel was to inform others about how Mexicans felt (and, I'm sure, still feel) about this war. It clearly shows the feelings, frustrations and fears of the impotent citizenwhile the powers that be' play their political games with the citizens as their pawns. Yankee Invasion has a lot to offer in terms of painting a vivid picture and creating an impression that lasts." Compass Book Ratings (formerly Squeaky Clean Reads)

If life is a dream, Solares seems to say, then history is a nightmareThe novel opens with an ominous symbolthe grotesque image of the US flag flying over the Zócalo." Mauricio Molina, Letras Libres" (Mexico)

La invasión recounts the daily life of Mexico City during the days of the North American invasion, a wound in Mexican history still felt today."Javier Rodríguez Marcos, Rio Abierto" (Peru)

Centering on September 14, 1847, the day on which the US flag was raised in the heart of Mexico City, La invasión presents facts, reflections, and debates relevant to today." Javier Valenzuela, El País" (Spain)

Solares rescues the memory of the 1847 US invasion, when Mexico lost half its territory and became untied as a nation." LaPalmaInteractivo.com

In a period when Mexico has to choose between being a just and progressive country or one still tied to corruption and injustice, La invasión is a call to sense and responsibility." Salvador Elías Venegas Andraca, mindsofmexico.org (Mexico)

The most important political and military battle in Mexican history is precisely the US invasionhere is a chronicle of the moment when that nation was on the verge of disappearing." Oscar Velasco, gaceta.cicese.mx (Mexico)

The collective biography of the Mexico that lived through the trauma of the US invasion" Alejancro Estivill, Hoja por Hoja" (Mexico)

A wonderfully written book about the invasion and occupation of Mexico City by US forces during the Mexican War (1846-47)the reader learns about the fear, shame and embarrassment that this dark period in Mexican history brought to its people." Best Adult Books of 2005, Críticas

Endorsed by Carlos Fuentes
or
Not Currently Available for Direct Purchase