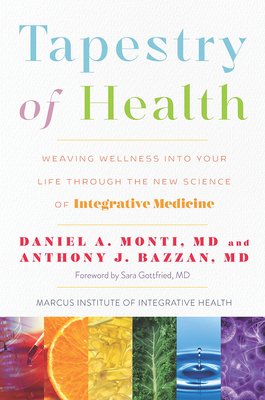 Tapestry of Health (Hardcover)
Weaving Wellness into Your Life Through the New Science of Integrative Medicine
Kales Press, 9780979845697, 208pp.
Publication Date: August 25, 2020
* Individual store prices may vary.
Description
Tapestry of Health artfully synthesizes the complex world of healthy living into a set of clear principles in guiding you to feel your best and thrive at your highest potential through evidence-based integrative medicine treatment of body, mind and spirit.

Transforming the way you feel, think, look and thrive requires a health care approach that integrates all aspects of your well-being, including the physical, emotional, intellectual, spiritual, social, and nutritional. Doctors Monti and Bazzan lay out, step-by-step, how to gain and maintain long-term vitality by integrating a broad range of restorative medicine, nutritional science, and healthy lifestyle practices. This convergence of time-honored approaches and cutting-edge technologies offers new preventions and cures while maintaining the fundamental principle that the parts cannot be well unless the whole is well.
About the Author
Daniel A. Monti, MD, MBA is CEO of the Marcus Institute of Integrative Health at Thomas Jefferson University, and founding chair of the nation's first medical school department of integrative medicine.

Anthony J Bazzan, MD, is medical director of the institute and department.
Praise For Tapestry of Health: Weaving Wellness into Your Life Through the New Science of Integrative Medicine…
"This book is so incredibly timely
and important because it helps you understand this new paradigm of health—a
massive shift that affects healthcare providers and patients alike… Drs. Monti
and Bazzan's cogent plan, based on proven dietary and lifestyle interventions
integrated with modern medicine, is just what the doctor ordered."
— Sara Gottfried, MD, New York Times bestselling author of The Hormone Cure, The Hormone Reset Diet and Younger

"Fantastic book on how to
reclaim and maintain your health from top to bottom. The most up-to-date
research is woven with highly practical approaches in an easy to read format.
Everyone will benefit, doctors and patients alike, from using the information in
this book to change their health and well being."
— Andrew Newberg, MD, bestselling author of How God Changes Your Brain, Words Can Change Your Brain and Why God Won't Go Away

"Perfection isn't possible, but
transformation is. Tapestry of Health offers a direct path for all of us to
have the chance to change, to learn and to grow no matter our circumstances.
Through the synergistic qualities of Integrative Medicine, you will not only
have a vehicle to a happier and healthier life, you will also inspire those you
love to follow your example and do the same for themselves."
— Shauna Shapiro, PhD, internationally acclaimed researcher, psychologist and author of Good Morning, I Love You

"The time has come for a message of
wellness which emphasizes the science of nutrition, a core component of any
effort to practice medicine. For too long this message has been left out of
medical practice."
— T. Colin Campbell, PhD, bestselling co-author of The China Study