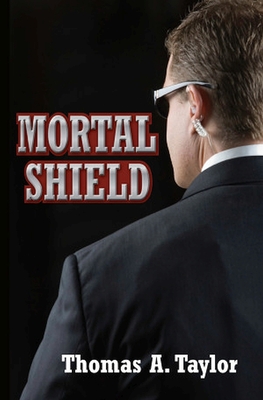 Mortal Shield (Paperback)
Southeast Missouri State Univ Press, 9780979871412, 306pp.
Publication Date: April 1, 2008
* Individual store prices may vary.
Description
In the backwoods of a state park, a group of religious extremists train to murder the governor, using state highway policemen for practice. In the State Capitol, security agents practice their formidable protection skills to guard the life of a governor and his family who try to outmaneuver their bodyguards at every turn. When the governor hosts a nationwide governors' summit, security is taxed to the limit while the extremists infiltrate the gathering to massacre government officials and anyone else in their way.

In the real world, public figures are faced with hazardous situations every day. Stalkers, inappropriate or threatening communications, and unwelcome approaches are all part of public life. The fiction thriller Mortal Shield, by protection-expert Thomas Taylor, delves into the hearts and minds of bodyguards, the dignitaries they protect, and the opponents they attempt to foil. Mortal Shield is a realistic and spellbinding portrayal of protection work, which captures the everyday challenge of guarding high-level VIPs.

Most "assassin" novels are the same: Lone assassin stalks VIP; hero stalks assassin; hero is discredited and becomes outcast; hero figures out assassination plot; against all odds, hero lunges in at last moment and foils assassination in front of incompetent bodyguards. You seldom read: bodyguard orchestrates flawless travel procedures; bodyguard figures out assassination plot among hundreds of false alarms; bodyguard lunges in and saves VIP.

Every situation, every person, and each piece of equipment described in this book are truthful depictions of the real world, down to the gritty details of training for everything, planning for anything, and protocol from everywhere—all elements which the protector has to weigh and measure. Readers will never look at public figures or their bodyguards the same way again.
About the Author
Thomas A. Taylor's involvement in protective operations began in 1974, when he was assigned to the Governor's Security Division with the Missouri State Highway Patrol. He served on the protective details of four different governors, eventually rising to the Commander of the Governor's Security Division for eight years. He has been part of the protective operations for the Pope, Mikhail Gorbachev, Margaret Thatcher, Henry Kissinger, and every U.S. President since Gerald Ford, handling protective assignments in Russia, Japan, Korea, China, Ireland, India, Italy, Turkey, and Puerto Rico.

After a nationwide search of protection experts, Taylor was selected to serve on the Development Team for the MOSAIC Threat Assessment System currently used by the U.S. Supreme Court, the CIA, the U.S. Marshals Service, and agencies protecting governors of twelve states. Thomas Taylor currently works as a Special Projects Advisor for Gavin de Becker and Associates, a firm that advises and protects high-risk public figures.

Taylor authored Dodging Bullets: A Strategic Guide to World-Class Protection in 2000 and coauthored a groundbreaking book on public-figure protection, Just Two Seconds: Using Time and Space to Defeat Assassins. He is currently working on the sequel to Mortal Shield.


or
Not Currently Available for Direct Purchase