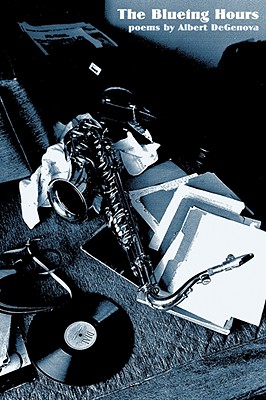 The Blueing Hours (Paperback)
Virtual Artists Collective, 9780979882531, 72pp.
Publication Date: August 15, 2008
* Individual store prices may vary.
Description
The Blueing Hours moves from darkness to light - the reader moves from passion to doubt to the struggle to survive intact - in a brilliantly structured book which carries the reader to dawn. This isn't surprising, for here is a poet who does not want to trade Earth for Heaven or Hell. Al DeGenova is betting everything that the objects of this world - flawed or not - are charged with meaning, that we humans need more than some elusive transformation into perfection. He rejects facile romanticism or the forgiveness that nostalgia offers. This is a book launched by the extension of the night: jazz clubs, neons, poetry readings, bar noises. DeGenova takes his readers from the red hours, the black hours to the blueing hours. He does not have to re-invent the color wheel, but rather use it to keep the world from the false dictionary of black and white. He is a generous poet, for, like the many visionaries of Chicago (including Carl Sandburg and Gwendolyn Brooks), his insights are our insights. He makes us wealthy in a currency about soul, life, passion. One word at a time, one heartbreak at a time, one rescue at a time.