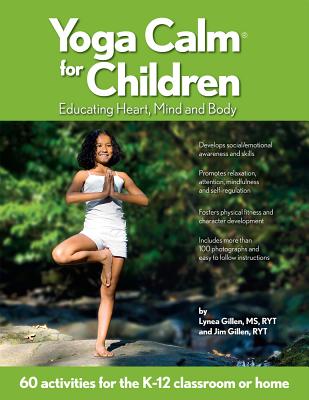 Yoga Calm for Children
Educating Heart, Mind, and Body
Paperback

* Individual store prices may vary.
Description
Filled with photos, illustrations, lesson plans, and an extensive quick-reference bibliography, this detailed manual is an indispensable guide for introducing yoga in public school and therapeutic settings, as well as a great handbook for parents who would like to share yoga with their children. Easy to use and appropriate for children and teenagers, it includes information on integrating the Yoga Calm technique with regular classwork, modifications for specific classroom situations, alignment and safety principles, anecdotal examples from the authors' direct experience, and "emotional first aid tips" to help young people maintain a calm center when they most need it.
Praise For Yoga Calm for Children: Educating Heart, Mind, and Body…
"This is truly an invaluable handbook that provides detailed and thoughtful information for counselors and teachers who want to incorporate the enormous benefits of yoga into a standard curriculum. It is also a beautiful expression of how, just by shifting the way we are with children, we can affect their lives." —Frances Douglass, PhD, school psychologist
"Beautifully illustrates how yoga techniques and philosophy can help children. The thoughtfully conceived exercises are accessible to teachers, counselors, and students alike." —Julie Gudmestad, licensed physical therapist and columnist,
Yoga Journal
"Quick, easy-to-use, and stimulates my own ideas for activities. The exercises described in the book are a wonderful way to honor children and set a positive tone in the classroom." —Ilga Paul, occupational therapist
"Yoga Calm is an excellent program that complements the services we provide for children. It reinforces the self-control principles we teach in our clinic and empowers the children and their families." —Dr. Jeff Sosne, director, The Children's Program, author,
The ADHD Notebook
and
The Anger Notebook
"Yoga is an important and often unused tool in the quest to offer children and teens protection from the negative effects of stress.
Yoga Calm for Children
offers practical, easy-to-learn yoga exercises to help soothe and heal. You will find this book an important resource in your effort to bring calmness to a stressful world." —Roger Klein, PsyD, licensed psychologist, coauthor,
Ready, Set...R.E.L.A.X.
"Yoga Calm is an extremely practical, useful, and well-conceived approach for addressing the diverse needs of both students and staff. I can genuinely recommend this book to other school districts." —Howard Fetz, PhD, school district superintendent
"
Yoga Calm for Children
is one practical resource! The book continually provides actual things you can do RIGHT NOW with children, to help them focus, be more grounded, feel confident in themselves, and relate with the world in a positive manner. Read even a little of this book, and you already have options and approaches to try, in whatever setting you are in." —Jude Siegel, art teacher
Three Pebble Press, LLC, 9780979928901, 181pp.
Publication Date: September 1, 2008
About the Author
Lynea Gillen, MS, is the cofounder of Yoga Calm, a school counselor, a registered yoga instructor (RYT-200), and an adjunct faculty member at Portland State University. Jim Gillen, RYT, is the cofounder of Yoga Calm and director of Still Moving Yoga in Portland, Oregon. He is a registered yoga instructor (RYT-500), an affiliated Anusara yoga instructor, ACE group fitness instructor, and a member of the International Association of Yoga Therapists. He has taught and developed youth programs for the National Science Foundation and the National Sports Center for the Disabled. They live in Portland, Oregon.