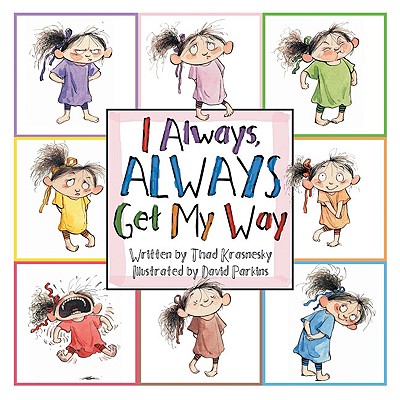 I Always, ALWAYS Get My Way (Hardcover)
Flashlight Press, 9780979974649, 32pp.
Publication Date: September 1, 2009
* Individual store prices may vary.
Description
From carefully aimed pouts and shifting blame to the threat of an all-out tantrum, this laugh-out-loud story for kids and adults focuses on the clever antics, advantage-taking, limit-testing, and childhood shenanigans of three-year-old Emmy. When Emmy spills juice and her dad's pants get "orange-hosed," she takes refuge behind Mom's knee. Expecting a reprimand, Emmy is surprised when Mom tells Dad, "Now, sweetheart, you should let it be. After all . . . she's only three." Once Emmy discovers that she's too young to be punished, she constantly wrangles her way out of trouble by proclaiming, "I'm only three!" and pulls a handy weapon from her arsenal of manipulative maneuvers. With hilarious, rhyming text and energetic ink and watercolor illustrations that capture Emmy's expressions, from angelic to livid, readers discover that Emmy can't get away with her outrageous behavior forever and that her actions do eventually have consequences.
About the Author
Praise For I Always, ALWAYS Get My Way…
"Parkins'. . . cartoon-style ink and wash vignettes . . . focus on Emmy's yowls of indignation and insouciant smiles. . . . Newcomer Krasnesky writes tightly disciplined verse that never flags. . . . This is a fast-moving crowd-pleaser made for reading aloud." —Publishers Weekly
"Krasnesky tells the story with flowing rhyme that accommodates the humor of the plot and heightens Parkins's comical cartoon illustrations." —School Library Journal
"Emmy masterminds a (practically) foolproof plan to avoid trouble . . . Her animated expressions perfectly capture her scheming antics . . . She pouts her way into her family's hearts . . . The verse . . . does . . . partake of Silverstein['s] subversiveness." —Kirkus Reviews
"Emmy gets away with everything—she's only 3, after all—until her parents reach the limit of their patience, and Emmy must face a new concept: consequence." —Parent & Child Magazine
"Clever rhymed couplets . . . comic opera . . . lively vignettes . . . You do not have to love cats to enjoy this romp." —Children's Literature
"Bouncy rhymed text and humorous . . . illustrations follow little Emmy's path of destruction. Mom comes to her rescue, but the mishaps pile up . . . older siblings will be satisfied by the tale's ending." —Horn Book 2010
"Will resonate with parents everywhere . . . fun to read and fun to listen to . . . a perfect bedtime story . . . capturing the essence of a mischievous three-year-old." —The Sacramento Book Review
"A playful, expressive, dramatic, and very loveable protagonist. [This book] will undoubtedly leave many readers looking forward to Emmy's future adventures." —Florida Reading Journal (January 2012)