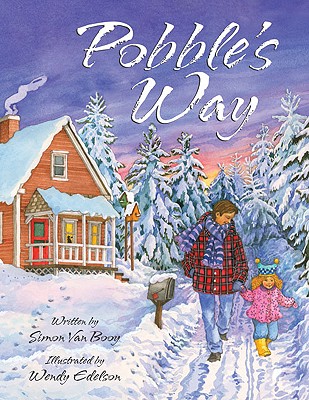 Pobble's Way (Hardcover)
Flashlight Press, 9780979974663, 32pp.
Publication Date: September 15, 2010
* Individual store prices may vary.
Description
A perfect bedtime story, this gentle tale follows Pobble and her father as they stroll through the snowy woods near their home one evening and, in Pobble's imaginative and unique way of looking at things, nature transforms: a winter mushroom becomes frog umbrella, a floating leaf turns into a butterfly boat, and a feather is a tickle stick. In the excitement of imagining worlds transformed, Pobble does not notice when her pink mitten falls from her pocket. Soon the woodland animals gather and begin to wonder whether the soft, pink addition to the forest is cotton candy, a mouse house, a wing warmer, or a fish coat. With luminous paintings and lyrical language, this picture book celebrates family, nature's beauty, and the power of imaginative thinking.
About the Author
Simon Van Booy is the author of "The Secret Lives of People in Love" and "Love Begins in Winter," which won the Frank O'Connor Short Story Award in 2009. His essays have appeared in the "New York Times," the "Daily Telegraph," and the "Guardian." He lives in New York City. Wendy Edelson is the illustrator of dozens of children's books, including "The Christmas Story." She lives in Bainbridge Island, Washington.
Praise For Pobble's Way…
"With his totally original ear for the English language, Simon Van Booy . . . gives a special style to this tale of a lost mitten."  Hilary Knight, illustrator, Kay Thompson's Eloise
"This clever story would be lovely for sharing one-on-one and could inspire readers to take their own imaginations for a walk." 
School Library Journal
"The wonderfully vivid and appealing illustrations bring this story of discovery and identification to life, and young children will be mesmerized by the unique point of view that is presented by each woodland animal. . . .With or without an adult reading partner, this enchanting story will be a treasured favorite in any young child's collection of special books." 
Children's Literature
"I love the idea that an object is perceived to be something very different by each of several observers [in Pobble's Way], and will be sharing the book with that in mind during my workshop."  Dr. Peggy Sharp, one of the foremost experts in North America on children's literature and literature programs
"A wonderful bedtime tale that fathers especially will love to read to their children." 
New York Journal of Books
"Simon Van Booy has written a tale about a magical walk in the woods that celebrates the imaginative naming games that kids love. Fathers will particularly enjoy sharing this story with their children."  Kate McMullan and Jim McMullan, author and illustrator, I Stink!
or
Not Currently Available for Direct Purchase