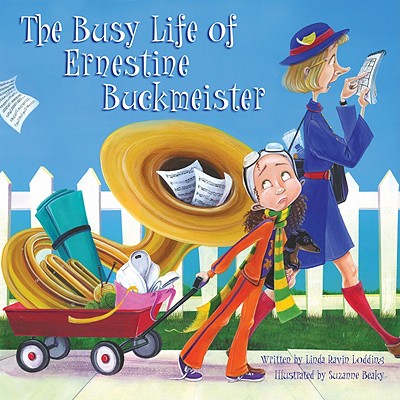 The Busy Life of Ernestine Buckmeister (Hardcover)
Flashlight Press, 9780979974694, 32pp.
Publication Date: October 1, 2011
* Individual store prices may vary.
Description
Ernestine is in over her head. Monday through Sunday, Ernestine's week is packed with after-school lessons—tuba, knitting, sculpting, water ballet, yoga, yodeling, and karate. Overwhelmed and exhausted, Ernestine decides to take matters into her own hands and heads off to the park with her Nanny where she builds a fort, watches the clouds, and plays all kinds of unstructured and imaginative games. But when a teacher calls Ernestine's mom to report that she has not shown up for yodeling, her parents search everywhere until at last they hear their daughter's laughter coming from the park. Ernestine tells her parents what a wonderful afternoon she's had, and explains her plight, asking, "I like my lessons, but can't I stop some of them?" This saga hilariously captures the dilemma of the modern-day over-scheduled child in riotous color and absurd extremes. A delightful heroine, Ernestine will be sure to put "play" back on everyone's agenda, demonstrating that in today's overscheduled world, everyone needs the joy of play and the simple wonders of childhood.
About the Author
Linda Ravin Lodding works abroad in media and public affairs for the United Nations. Suzanne Beaky is the illustrator of the Hailey Twitch chapter book series and several picture books. She is a recipient of the Ellen Dolan Memorial Mentorship Award from the Society of Children's Book Writers and Illustrators in Missouri. She lives in Kirksville, Missouri.
Praise For The Busy Life of Ernestine Buckmeister…
"This book is a joyful and funny reminder to kids and parents alike about the importance and power of play. . . . Our children will all be happier and healthier if we lessen all those lessons and get out to play." —Darell Hammond, CEO and cofounder of KaBOOM!
"Illustrations by Beaky . . . a helter-skelter of varying perspectives, diagonal lines, falling objects, and crowded calendars sporting Post-It notes all contribute to the frantic mood of the story. . . . More than enough amusing examples of adult folly in both text and illustration." —Bayviews (February 2012)
"One day overscheduled Ernestine bails on her lessons to do something outrageous: play. The book has a capital 'M' message but also lots of heart. Plus, there's amusement in Lodding's text . . . and in Beaky's acrylics." —The Horn Book (January 2012)
"Beautiful acrylic illustrations in vibrant colors show the child's myriad activities and frenzied lifestyle. Taking time to play without a schedule is one of the overarching themes here, but Ernestine seems to realize this all along." —School Library Journal (December 1, 2011)
"A paean to play, especially for kids. . . . The vibrant, colorful illustrations help lift each page of spunky narration. The Busy Life of Ernestine Buckmeister will appeal to overachieving kids of all ages, or 4-8." —www.midwestbookreview.com (December 2011)
"Lodding teaches an important lesson . . . without being didactic, but with charming characters and happenings. The brilliant illustrations of Suzanne Beaky are an absolute treat, full of fun and telling details in bright colors. They match the story perfectly. This is a book parents and children alike will enjoy over and over again." —www.CityBookReview.com (January 2012)
"After juggling a different activity each day of her overscheduled life, Ernestine breaks free for a day of playing at the park, reminding kids and adults alike about the importance of including fun and simple childhood wonder on every agenda." —Metro Family Magazine (March 2012)
"The illustrator has created beautiful and detailed artwork that really helps emphasize Ernestine and her crazy life. The images are creative and funny. Children . . . will delight in the moral of the story: Sometimes a kid just needs to have time to play, have fun, and exercise only the imagination." —www.NYJournalOfBooks.com
"Gloriously funny illustrations depicting the absurdities of overdoing and over extending." —Linda Raving Lodding, readandshine.com
or
Not Currently Available for Direct Purchase