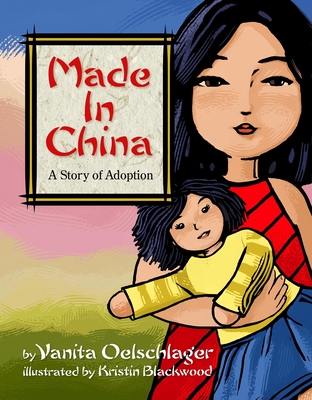 Made in China (Hardcover)
A Story of Adoption
Vanita Books, 9780980016239
Publication Date: June 1, 2008
* Individual store prices may vary.
Description
Made In China touches on two seemingly unrelated subjects - adoption and sibling relations. As told in this story. These are intertwined and very important to one young child who literally was made in China. The story begins when the child is told by her older sister, in a teasing manner, that she is adopted from China, and marked just like the broom and their toys. Upset, she goes to her father who tells her the story of how she came to be their child but you're not made like a toy, you were made in China to give us joy. And, he also reminds her that you are much more than what people say about you. The story is resolved with her older sister and she is reassured that In all the wide world we couldn't love you more.
Praise For Made in China: A Story of Adoption…
Oelschlager presents a story that veers from the traditional stories about adoption. The rhyming text features a Chinese girl asking her older, blond sister to read the label on a broom she's using. Her sister reads, "made in China," then jeers at her sibling-"'It's just like you'/my big sister said, /'You're Made in China./It's stamped right on your head.'" The child seeks out their father to deny the truth of her sister's put-down, and his reply is reassuring and poetic as he tells her how much she is loved. This title addresses many themes: sibling rivalry, multiracial families, and facing taunts about ethnicity-even from a family member. It is heartening to read the emphatic reassurance offered to a daughter who has been wounded and is worried about being different. Although the older sibling is not explicitly reprimanded in the text, the pictures imply that reconciliation takes place. Blackwood has employed a blend of linoleum cuts outlined in black and computer coloring techniques to craft stunning illustrations. Ethnic features are realistic and enhance the simple text, depicting the birth mother as well as the adoptive family. The endpapers feature more than a dozen photos of Chinese adoptees of various ages. This title will be of special interest to families of Chinese adoptees, but could also serve as a springboard for discussing racial slurs and insensitivity for a much wider audience. -- Deborah Vose, Highlands Elementary School, Braintree, MA "School Library Journal"