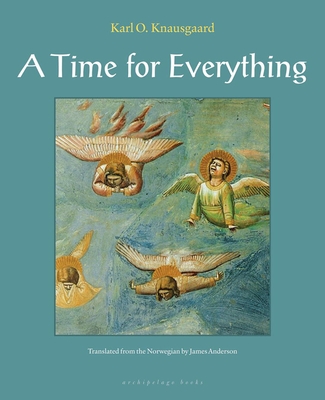 A Time for Everything
Paperback

* Individual store prices may vary.
Description
In the sixteenth century, Antinous Bellori, a boy of eleven, is lost in a dark forest and stumbles upon two glowing beings, one carrying a spear, the other a flaming torch … This event is decisive in Bellori's life, and he thereafter devotes himself to the pursuit and study of angels, the intermediaries of the divine. Beginning in the Garden of Eden and soaring through to the present, A Time for Everything reimagines pivotal encounters between humans and angels: the glow of the cherubim watching over Eden; the profound love between Cain and Abel despite their differences; Lot's shame in Sodom; Noah's isolation before the flood; Ezekiel tied to his bed, prophesying ferociously; the death of Christ; and the emergence of sensual, mischievous cherubs in the seventeenth century. Alighting upon these dramatic scenes – from the Bible and beyond – Knausgaard's imagination takes flight: the result is a dazzling display of storytelling at its majestic, spellbinding best. Incorporating and challenging tradition, legend, and the Apocrypha, these penetrating glimpses hazard chilling questions: can the nature of the divine undergo change, and can the immortal perish?
Praise For A Time for Everything…
The writing glows with an intense awareness of the here and now, and loving observations of landscapes and objects . . . this is an extraordinary novel, and completely original. —The Independent

Knausgaard joins the ranks of the greatest storytellers of our time. His glittering prose is purposeful, precise, and poetic. . . . There can be no doubt about his extraordinary talent: only the work of a master can be thought-provoking on so many levels yet retain a lightness of touch. —Frankfurter Allgemeine Zeitung

The breadth of the history of ideas in Knausgaard's second novel has a span like the wings of an archangel and brings together Old Testament psychology with modern deconstruction . . . Knausgaard's insight into Cain's love and his battle against ignominy are described in masterly psychological prose. —Politiken

There is little doubt that Knausgaard had written himself into literary history. —Dagens Naeringsliv

…this strange and serious novel of ideas is an admirably imaginative contemporary reinterpretation of characters whose odd, splendid appearances in Christian mythology are made all the more mysterious for being matter-of-fact and never fully explained. —Metro UK

A marvelous book. . . . Knausgaard's most evident strength as a writer is his gift for minute description, especially of nature, but also of the human psyche. . . . The descriptions of forests, floods, streams, fields, and Henrik Vankel's secluded island are ravishing and . . . create the feeling that we are being transported, again and again, into some primordial world. —Ingrid D. Rowland, The New York Review of Books

It may well become a cult novel. —The Guardian
Archipelago, 9780980033083, 499pp.
Publication Date: November 20, 2009
About the Author
Karl O. Knausgaard was born in Norway in 1968 and made his debut with the novel Ute av verden (Out of the World). A Time for Everything, his second novel, was nominated for the Nordic Council Prize. It is his first to be translated into English.

James Anderson's literary translations from the Norwegian include Berlin Poplars by Anne B. Ragde, Nutmeg by Kristin Valla, and several works by Jostein Gaarder.
or
Not Currently Available for Direct Purchase