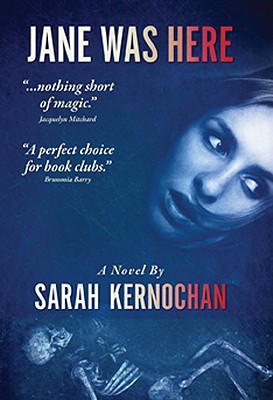 Jane Was Here (Hardcover)
Grey Swan Press, 9780980037722, 298pp.
Publication Date: June 1, 2011
* Individual store prices may vary.
Description
A thriller that explores reincarnation, Jane Was Here follows a mysterious young woman, who calls herself Jane, who turns up in a small New England town. She claims a fragmentary memory of growing up in the town, yet she has never been there before in her life. Upon her arrival, strange and alarming things begin happening to some of the town's inhabitants. As Jane's memories reawaken piece by piece, they carry her back to a long-buried secret, while the townspeople hurtle forward to a horrific event when past and present fatally collide. A centuries-old mystery will resolve, and karma will claim its due.
About the Author
Sarah Kernochan has won two Academy Awards for her documentaries Marjoe and Thoth. As a screenwriter, she has written many films, among them Nine and a Half Weeks, Impromptu, Sommersby, and What Lies Beneath. She also directed her film All I Wanna Do, starring Kirsten Dunst. Jane Was Here is her second novel. She lives in New York City with her husband, director James Lapine.
Praise For Jane Was Here…
 Jane Was Here, by Oscar-winning filmmaker Sarah Kernochan, is an eerie mystery with an emphasis on reincarnation and karma. The eponymous Jane travels to the tiny New England town of Graynier to uncover who murdered her in a past life. But Jane has never been to Graynier, and the murder she is convinced was her own took place in 1853.
Jane was institutionalized for most of her present life, even though she claims sanity. She waited until she was 21 to leave the institution to discover the secrets of her past life and how they relate to her present--and to the present lives of everyone in Graynier.Kernochan is best known as a screenwriter for the movies
9½ Weeks
and
What Lies Beneath
. This is only her second novel; her first,
Dry Hustle
, was published in 1977. Like her films,
Jane Was Here
relies on a pervasive sense of foreboding, inspired by masterful descriptions of setting and character. The current occupants of Graynier lived there during their past lives as well--but who murdered past-life Jane? Figuring it out is the riveting fun of
Jane Was Here
.Religion, particularly a sect known as "Gabriel Nation," plays a big part in Jane's past life, and the religious discussions and related romance lend a touch of softness to this otherwise dark and vicious tale. The graphic sexual content is shocking, but Kernochan uses it as a character development tool. The acts themselves are not portrayed, but inference illuminates characters' internal demons. Kernochan does not pull punches. She tosses us amid the Graynier wolves in order to solve Jane's murder before anyone else ends up dead. In her inventive and artful brutality, Kernochan evokes horror genius in this backwoods karmic thriller. --Sara Dobie, blogger at Wordpress
Discover: A brutal, beautiful puzzle of past lives, karma and the devastation wrought by both
An absolutely great, absorbing book. I couldn't put it down waiting to find out what happened next.
It is great reincarnation thriller spanning 200 years. A young autistic girl, Jane, appears in a small town trying to find out about her past and where she came. Strange things start happening to the townspeople climaxing with a gripping horrific event. It involves betrayal, revenge, murder and love.
It is extremely well written and I would recommend it. I can't wait to read more by this author.
Review
David Savage
whatsgoodtodo.com
or
Not Currently Available for Direct Purchase