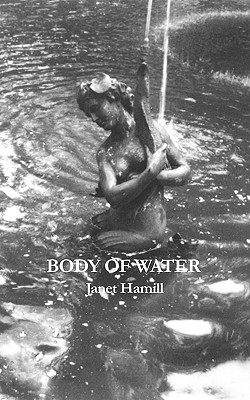 Body of Water
Paperback

* Individual store prices may vary.
Description
With mercurial wands, Baal's angels, decks with wild Jacks of oracle bones, tempest Serpens, Lord Byron on the Bridge of Sighs, stallions mottled grey, a "dark blue stronger than the Flemish blue of hummingbirds," and poesis lying in the ashes of a dress, Janet Hamill turns her wizard poet's eye on an immense body of alchemical empathies. This book is a romantic, surreal, lyrical Voyage. It twists and turns with the playful tide of poetic vision, enhanced by the delicate measures of Patti Smith's photography. Kudos all around.
--Anne Waldman Reading Janet Hamill now, as I have over the last thirty years, I'm amazed again at the particulars of the world her poetry makes--a night world, as I read it, peopled with bright creatures and splashes of color, beautiful and terrifying by turns. With this there is a mix, too, of pop forms and strains, and of catholic and pagan names and images--angels and saints and hermits--as in the vision of her sleeping gypsy: "firebird sweets / a morsel a taste of carrion / . . . as in a dream." With this and much more, she has become indispensable.
--Jerome Rothenberg With its unbridled surrealistic, hypnotic imagery, Janet Hamill's alchemy of language gives us back communion with our souls. With a magician's grace she reminds us of the enchantment of our being. Hers is a music both modern and magik.
--Maureen Owen . . . Janet Hamill has sought transcendence in language on the page or sung . . . Hamill's mastery of form and feeling comes together to create a poem that delicately examines celebrity, gallantry, silence, talent, and beauty. Only a poet could do that. Or maybe only Janet Hamill.
--Patricia Spears Jones.
YBK Publishers, 9780980050868, 100pp.
Publication Date: October 15, 2008