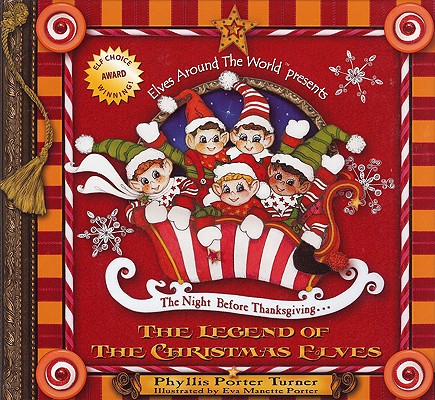 The Night Before Thanksgiving... The Legend of The Christmas Elves: The Official Kickoff of the Holiday Season (Keepsake Book wi (Hardcover)
The Official Kickoff of the Holiday Season (Keepsake Book wi
21st Century Classics Publishing, 9780980069303, 64pp.
Publication Date: August 1, 2009
* Individual store prices may vary.
or
Not Currently Available for Direct Purchase
Description
At the North Pole on the night before Thanksgiving, the toy making is finished and Santa is getting ready to send the elves to be with their special children all around the world. From Thanksgiving until Christmas, the elves have the pleasurable job of playing hide and seek, watching for good behavior, and reporting back to Santa every day. On Christmas Eve night, the elves move to the tree and wait for Santa to come and take them back to the North Pole. Year after year, children will recall all the fun they've had and look forward, with great anticipation, to the next Thanksgiving Eve and the return of their special elves. This enchanting keepsake book is the kickoff of the holiday season, and includes the story, memory pages, a songbook, and a musical treasury collection CD produced by Grammy Award–Winning music producer, J. Aaron Brown.
About the Author
Phyllis Porter Turner (author, singer, and songwriter) has fond childhood memories that include elves visiting her grandmother's home at Christmas. She originally wrote the story, The Night Before Thanksgiving . . .The Legend of the Christmas Elves in 2003 for the joy of her own children, but also to share this wondrous tale with others. The companion CD inspires children of all ages to imagine, have fun, dream, and believe! Eva Manette Porter, or MiMi (illustrator and the author's mother), has been an artist and interior/fashion designer for over forty years. J. Aaron Brown (executive music producer) is a multi-Grammy Award-Winning producer of children's music in Nashville, Tennessee.
Advertisement