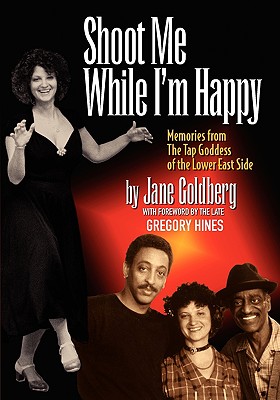 Shoot Me While I'm Happy - Memories from the Tap Goddess of the Lower East Side with Foreword by the Late Gregory Hines (Paperback)
Changing Times Tap Dancing Co, Inc., 9780980154603, 328pp.
Publication Date: June 11, 2008
Description
This is not a history of tap dancing. It is one determined woman's highly personal account of falling in love with and living the tap life. One of the linchpins behind the Great Tap Revival of the 1970s and 80s, Jane Goldberg tracked down, studied with, and performed alongside some of the tap greats of the twentieth century. In the process, she came up with a genre all her own-"Rhythm & Schmooze." A romantic, Goldberg thought tap dancing would provide the most direct route to finding a partner like Fred Astaire. It did not, she discovered quickly. What she did discover, however, were her happy feet. Those feet, combined with great tenacity and endless curiosity, led her to ferret out a generation of show biz hoofers who had involuntarily gone underground. "Shoot Me While I'm Happy"-the title comes from an old vaudeville expression-captures a wealth of memories both wacky and touching.

Advertisement