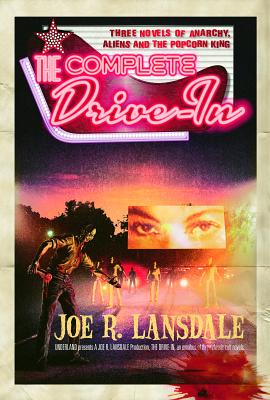 The Complete Drive-In (Paperback)
Underland Press, 9780980226041, 464pp.
Publication Date: April 1, 2010
* Individual store prices may vary.
Description
Friday night at the Orbit Drive-in: a circus of noise, sex, teenage hormones, B-movie blood, and popcorn. On a cool, crisp summer night, with the Texas stars shining down like rattlesnake eyes, movie-goers for the All-Night Horror Show are trapped in the drive-in by a demonic-looking comet. Then the fun begins. If the movie-goers try to leave, their bodies dissolve into goo. Cowboys are reduced to tears. Lovers quarrel. Bikini-clad women let their stomachs' sag, having lost the ambition to hold them in. The world outside the six monstrous screens fades to black while the movie-goers spiral into base humanity, resorting to fighting, murdering, crucifying, and cannibalizing to survive. Part dark comedy part horror show, Lansdale's cult Drive-In books are as shocking and entertaining today as they were 20 years ago.
or
Not Currently Available for Direct Purchase