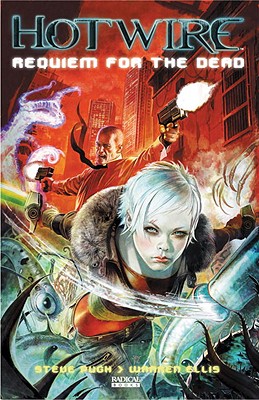 HOTWIRE: Requiem for the Dead Volume 1 (Hardcover)
Requiem for the Dead Volume 1
Radical Publishing, 9780980233537, 136pp.
Publication Date: June 15, 2010
* Individual store prices may vary.
or
Not Currently Available for Direct Purchase
Description
In the near future, the living and the dead share the same space. Most of the "Blue Lights" are harmless, witless drones, as lost in death as they were in life. Some want revenge. Some want power. Some even want company to join them in the ranks of the departed. Enter Alice Hotwire, Detective Exorcist. She's the best there is at keeping the peace on the Blue Light beat, and her fellow officers hate her for it. It's a job she doesn't want, in a world she doesn't understand -- but when a break-in at the Maximum Security Necropolis sets off a surge of violent, brutal hauntings, Alice Hotwire knows she's the only one that can pull the city from the brink of chaos.
About the Author
Steve Pugh is a well-known British comic book writer and artist that has worked on such titles as "Hellblazer" (re-titled for film as ""Constantine""), "Hellstorm "and "Doom 2099" (with writer Warren Ellis); "Saint of Killers "and" Hitman "(with writer Garth Ennis, creator of "The Boys");" X-Men 2099, Judge Dredd, Star Trek," "Batman, ""Star Wars "and "Hellgate-London" (with writer Ian Edginton); "Terminator "and "Superman vs. Terminator" (with writer Alan Grant); "Deadcorp(e)s" and "Blade" (with writer Christopher Hinz); "Vampirella/Witchblade "(with writer Brian Wood) and the "X-Men" (Italicize) spinoff series, "Generation X" (with writers Brian Wood and Warren Ellis).

Warren Ellis is an award-winning author of the groundbreaking titles "Transmetropolitan, Planetary," "Fell" and "Ministry of Space, " as well as writer on Marvel's "Fantastic Four" and "X-Men," DC's "Justice League of America," Vertigo's "Hellblazer" and mastermind behind the controversial, seminal Wildstorm title "The Authority."
Praise For HOTWIRE: Requiem for the Dead Volume 1…
"Wildly imaginative, zany, action-packed book that everyone who loves comics should pick up." -Philadelphia Daily News

"An all around phenomenal book." -Ain't It Cool News

"Pugh has definitely added a trend here with HOTWIRE, giving fans not only a cinematic experience with the art and writing, but something new to enjoy in the land of comics." -Fangoria

"Definitely worth checking out." -Comic Book Resources 

"It's a highly entertaining sci-fi thriller, with a skeleton hand of horror bearing down upon it." -Broken Frontier

"Busy but not cluttered and starring a damn awesome heroine, HOTWIRE is attractive book both visually and mentally. Radical has another winner." -Comics Waiting Room

"It's difficult to put into words how gorgeous this book is and how real the characters feel." -Comics Bulletin

"Great art and a unique story - this is a can't miss book." -Comixology
Advertisement