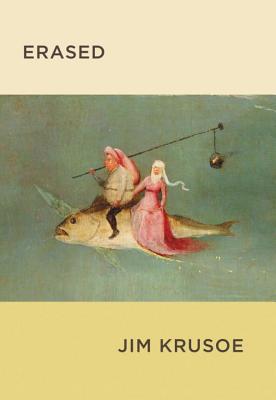 Erased (Paperback)
Tin House Books, 9780980243673, 216pp.
Publication Date: May 26, 2009
* Individual store prices may vary.
Description
When Theodore receives a postcard from his dead mother he sets out to track her down. Erased explores abandonment, life, death, and the transition between this world and the next.
Abandonment, life, death, and, oddly, Cleveland are explored in the hilarious second installment of Jim Krusoe's trilogy about resurrection. In Erased, Krusoe takes on a dead mother who mysteriously sends notes from the beyond to her grown son, Theodore, the owner of a mail-order gardening-implement business. "I need to see you," the first card reads. Theodore does what any sensible person would: he ignores it. But when he gets a second card that's even more urgent, Theodore leaves his quiet home in St. Nils for a radiantly imagined Cleveland, Ohio, to track down his mother. There, aided by Uleene, the last remaining member of Satan's Samaritans, an all-girl biker club, he searches through the realms of women's clubs, art, rodent extermination, and sport fishing until he finds the answers he seeks.
About the Author
Jim Krusoe is the author of the novels Parsifal, Toward You, Erased, Girl Factory, and Iceland; two collections of stories; and five books of poetry. His stories and poems have appeared in the Antioch Review, Bomb, the Chicago Review, the Denver Quarterly, the American Poetry Review, and other publications. He is the recipient of fellowships from the National Endowment for the Arts and the Lila Wallace Reader's Digest Fund.
Praise For Erased…
Smart and funny...Krusoe is an engaging writer and an acute observer of his own brand of quotidian strangeness...Krusoe's witty book, for all its drifting in the slipstream of realistic narrative, ends up being, in the old and honest and satisfying sense, familiar."John Haskell, The New York Times Book Review

"...this novel has the power to draw us into its bizarre world...Krusoe reminds us that the best prescription for bereavement might just be a healthy dose of action. That better place is just around the next corner."George Ducker, The Los Angeles Times

"A fine writer with an offbeat turn of phrase..." Alison Hallett, Portland Mercury

"The pace of the book resembles a dream: It starts slowly, carefully accumulating details, and then rushes at the end...Erased raises more questions than it answers, but it offers some very entertaining speculation along the way."Elliott Holt, TheRumpus.net

"Erased tells the not unlikely storynot in Jim Krusoe's funny, absurdist fictionof a man who receives a post card from his dead mother, inviting him to Cleveland, Ohio, where he finds mystery in a kind of simultaneous civic dreamland and nightmare, and also discovers social organizations that seem only to assure the hopelessness and nutty redemption of a fictional world that echoes Kafka and Barthelme, except even funnier." Andrew Tonkovich, Bibliocracy Radio

"This novel, by Jim Krusoe, from the consistently interesting Tin House Books, purports to explore 'women's clubs, art, rodent extermination, and sport fishing.' I've no idea how this detail from a famous Bosch painting connects, but it sure is charming."The Book Bench, The New Yorker Blog

"Erased develops the quirky environs of Krusoe's America with its existential inconsistencies while injecting some human feeling and warm humor into the proceedings."Sharon Fulton, Open Letters Monthly

"Krusoe is very, very funny, but thoughtful as well in Erased."Paul Ingram, Prairie Lights
or
Not Currently Available for Direct Purchase