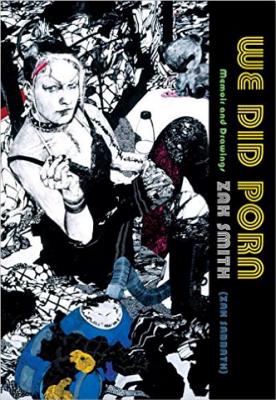 We Did Porn: Memoir and Drawings (Paperback)
Memoir and Drawings
Tin House Books, 9780980243680, 480pp.
Publication Date: July 28, 2009
* Individual store prices may vary.
or
Not Currently Available for Direct Purchase
Description
Blending memoir with Smith's own drawings and paintings, We Did Porn will do for alt porn what Hunter S. Thompson did for motorcycle gangs and Tom Wolfe for psychedelica. Punk artist and icon Zak Smith made a name for himself by visually interpreting Thomas Pynchon's Gravity's Rainbow and drawing pictures of girls in the "naked girl business." His artistic pedigree and acute observation landed him in high-profile shows from the Whitney to the San Francisco Museum of Modern Art. Somewhere along the line, Smith went from the observer to the observed, from the guy in the corner with a sketchpad to the guy on-screen doing the unnamable for anyone eighteen or older to see. We Did Porn follows Zak Smith (or Zak Sabbath) from the New York art scene to Los Angeles's seedy, yet colorful, underbelly--the world of alt porn. Smith narrates his own foray into pornography and gives his readers a new understanding of the industry, its players, and its audience.
About the Author
Zak Smith's two previous books are "Zak Smith: Pictures Of Girls" and "Pictures Showing What Happens on Each Page of Thomas Pynchon's Novel Gravity's Rainbow" (Tin House Books). He is a frequent contributor to several independent comics and zines, including "Paping" and "See How Pretty, See How Smart." His work has appeared in numerous publications worldwide and in many museums, including the Museum of Modern Art and the Whitney Museum. He lives in Los Angeles, where he works as an artist and performs in adult films.
Praise For We Did Porn: Memoir and Drawings…
"Intelligent, frank and often hilarious meditation on the author's dual career...The pleasure in this book comes not from living through the author's atypical experience, but in being taken deeper into areas of thought commonly perceived as tabooa wild, entirely worthwhile ride." ."Kirkus Reviews

"Smith's take on the industry is vivid and insightful, including observations on people, politics and American culturethe push-and-pull between the Right and those who want the right to screw."Kirkus Reviews, Nonfiction Supplement

"Will appeal to those who like things a little kinky."Publishers Weekly

"A fascinating synthesis of words and art..."LibraryJournal.com

"An intelligent, funny, and self-aware reminder that intelligent, funny, and self-aware people do in fact choose to work in the porn industry...It is all incredibly interesting and entertaining."Alison Hallett, The Portland Mercury

"The subject matter combined with his clever imagery couldn't help but keep it fascinating... It reminded me of David Foster Wallace's hilarious, equally dense essay Big Red Son"...Smith and Wallace have similarly breathless, heady writing styles and We Did Porn could easily serve as a porn insider's compliment to Wallace's journalistic-outsider perspective."Alex Peterson, Willamette Week Online

"Artist Zak Smith injects some life into the moribund genre of the memoir with this thoughtful and hilarious look into the alt-porn industry." Drew Toal, Time Out New York

"Wildly entertaining." Fleshbot

"...a page-turner...a genuinely enjoyable read..." Audacia Ray, author of Naked on the Internet
"Alongside 'fine artist and 'porn star' on Zak Smith's unique resume, you can now add the phrase 'entertaining and resourceful writer'...[We Did Porn] is exhaustive, perceptive, empathic, and very funny."John Bolster, Penthouse

"...reads not unlike a George Plimpton-style adventure in immersive investigation, as the artist chronicles his adventures in front of the camera as eager rookie Zak Sabbath, with words, pictures, self-awareness, and dark humor." Shana Nys Dambrot, Flavorpill

"...Smith is an outrageously talented observer, which makes his writing almost as arresting as his images, which are superb. Smith's detailed descriptions of 'life in the zeros' both on and off the set make We did Porn a fascinating x-rates documents of a cynical age." Jim Ruland, Girls Gone Wild Magazine

"...combines words and images, mixing memoir with gorgeous paintings...Smith's art is exquisite, intensely drawn with splashes of electric colors, sharp lines and energy throbbing in every complex detail...We Did Porn is an excellent book and Zak Smith is an incredibly interesting artist and writer."Alyssa Bianca-Pavley, Fanzine.com

"The many crosscurrents in Smith's works are fun, but more compelling is the fact that Smith does not seem so much involved in critique as something else from literary post-modernismhe's leapt into his own work as a character...Smith seems headed towards the historiographic, creatively narrating an alternative history, in this case, of a very recent past moment, from what might be perceived as the center of our authentic cultural life." Joe Fyfe, Artnet.com

"Smith's 'artwork is impeccable. There is tenderness, daring, heat in his pieces. With a Nan Goldin compassion, he captures an intimacy that is often lacking in the movies he and his comrades make.'"The San Francisco Bay Guardian

"This book is beautiful and complicated and riveting... I think there's no doubt that Zak Smith has genius, or that thing that we think of as genius that is really just the urge to get up every morning and spend long hours struggling with art." Stephen Elliott, The Rumpus
Advertisement