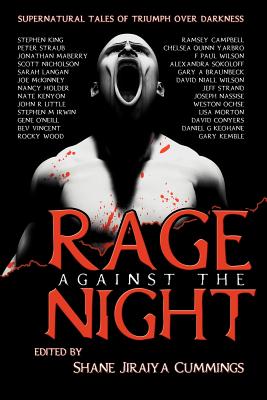 Rage Against the Night (Paperback)
Brimstone Press, 9780980567755, 426pp.
Publication Date: March 1, 2012
* Individual store prices may vary.
Description
Under the onslaught of supernatural evil, the acts of good people can seem insignificant, but a courageous few stand apart. These brave men and women stand up to the darkness, stare it right in the eye, and give it the finger. These are the stories of those who rage against the night, stories of triumph, sacrifice, and bravery in the face of overwhelming evil. Rage Against the Night features the megastars of dark fantasy and horror-including Stephen King, Ramsey Campbell, Peter Straub, Chelsea Quinn Yarbro, F. Paul Wilson, Jonathan Maberry, Scott Nicholson, Nancy Holder, Sarah Langan, and many, many more. All proceeds will be donated to Rocky Wood, author and President of the Horror Writers Association, who is battling motor neurone disease.