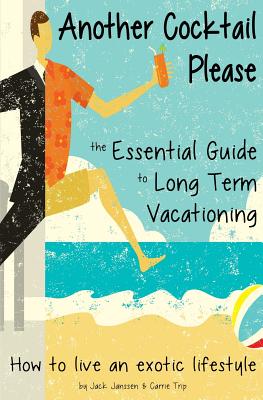 Another Cocktail Please (Paperback)
The Essential Guide to Long Term Vacationing - How to Live an Exotic Lifestyle
Thatch Roof Publishing, 9780980865387, 238pp.
Publication Date: June 8, 2016
* Individual store prices may vary.
Description
Have you ever had the notion that there is so much more to life than the normal every-day humdrum routine? There is.
Immerse yourself in Jack and Carrie's exotic lifestyle as they guide you effortlessly towards a new way of vacationing in "Another Cocktail Please."
While there are many destination specific and budget travel books there is no other essential guide to long term vacationing.
This inspirational, informative guide tugs on your heart strings and engages you to expand your horizons. Enjoy travel, leisure and exploration, each time somewhere new and intriguing, with their blueprint to creating the perfect holiday.
The authors approach to an extended vacation lifestyle offers readers a thought provoking and insightful, how-to anywhere, anytime. They ease the worries and frustrations of planning world-wide trips, eliminate any hesitation and leave their audience brimming with a renewed zest for life.
It's a big wide world out there - so where do you start?
Known as "seasonal nomads" Jack and Carrie venture to a new destination and live abroad for five to six months every year. Still in their working years they describe how they have escaped the traditional work week and enjoy extensive, diverse holidaying.
Merging a conventional lifestyle with a nomadic twist, teeming with excitement and adventure, Jack and Carrie share their wealth of expertise with all would be travellers - whether your holiday is for one week, two months or longer.
You'll learn how to:
Think outside the box to create more time for travel
Choose the perfect destination from which to live and explore your surroundings
Plan a hassle and disappointment-free vacation
Find the best holiday home for your budget
Negotiate vacation home and vehicle rentals to save money
Be fully prepared, packed and ready to go
Stay healthy and safe while assimilating into a new community
Set goals and record your memorable moments with an Evolving Bucket List
And so much more
Anyone who has ever felt trapped by the constraints of work and time yet can't imagine the possibility of life outside the norm, will be intrigued by the perceptive tips and tales contained in this must-have, effective strategy of "how to live an exotic lifestyle."
Jack and Carrie, are proof that living this lifestyle is attainable on most budgets - modest or luxury. Living the adage that life is short they urge you to not only discover what excites you - but to actually live it.
"Straightforward, practical advice on how to become seasonal nomads - with entertaining tales of Jack's traveling experiences, plus exotic recipes that will surely kickstart your own longing for adventure."-- Audrey van Petegem, Contributor Huffington Post
"Reading this book is like spending a few hours over icy margaritas with new-found friends. Jack and Carrie delight, entertain and educate with an informative description of their amazing lifestyle. This is an inspiring book that will give you serious food for thought about how you live your life, and the world of possibilities available to you." -- Ian Usher, Author, permanent traveller. IanUsher.com