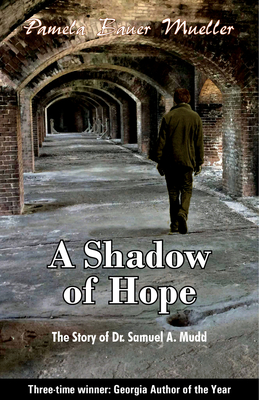 A Shadow of Hope
The Story of Dr. Samuel A. Mudd
Paperback

* Individual store prices may vary.
Description
Dr. Samuel Mudd, a simple country doctor, found himself caught up in the vagaries of history, loss, betrayal and unimaginable deprivation.  He paid the consequences for treating the broken leg of President Lincoln's assassin—an unjust conviction based on political expedience—and imprisonment in Fort Jefferson on a remote island in the Gulf of Mexico.  Deprived of liberty, bound in chains and banished from home and family, he spent four years living under appalling conditions.      
Then the yellow fever epidemic swept through the island prison.  Dr. Mudd battled the disease ceaselessly to save those who imprisoned him, before falling victim himself.  After the epidemic had run its course, 300 surviving soldiers signed a petition to President Johnson to free Dr. Mudd.  Yet he continued to fight relentlessly to gain his release through the federal judicial system.  Through it all, he maintained his strong principles, humanity and most importantly, his hope.
Praise For A Shadow of Hope: The Story of Dr. Samuel A. Mudd…
"A Shadow of Hope: The Story of Dr. Samuel A. Mudd is a historical novel centering around the Civil War era and the experiences of a country doctor who finds his profession, his life, and his world changed by politics and conflict. 
Pamela Bauer Mueller's close attention to historical detail and accuracy and her focus on adding the dramatic elements that mark good fiction succeed in producing a mesmerizing, well-researched story based on her survey of the diaries, published letters and stories by Mudd's relatives (and even his enemies) and historical records. 
Dialogue, letters written to prisoners, Lincoln conspirators, and court verdicts that ignored the contributions of the formerly-esteemed doctor to society all are included in a novel that reads like history, but re-creates events from facts and adds lively interpersonal interactions against the backdrop of evolving social and political turmoil. 
The result is a hard-hitting, absorbing novel that is hard to put down, which brings Civil War politics to sparkling life as it considers how a country doctor became embroiled in an unjust and fiery political controversy. A Shadow of Hope is very highly recommended for historical fiction readers who want their dialogue crisp, their characters firmly based on real personalities, and their history accurately represented." — Diane Donovan, Senior Reviewer, Midwest Book Review, November 2017
"I'm a history buff and have studied the American Civil War since I was a young boy in school, then through high school and college history classes.  Dr. Samuel Mudd was a major name in those studies.  I thought I knew a lot about him and the part he played in the assassination of President Lincoln, but I never felt like I was in the head of the doctor who set John Wilkes Booth's leg, until now.  While reading the magnificently researched and written A Shadow of Hope: The Story of Dr. Samuel A. Mudd, Pamela Bauer Mueller took me back to the 1860s.  I saw the events through Dr. Mudd's eyes and suffered the sting of chains around his ankles.  I endured the anguish of being stripped away from his family and the hopelessness of internment in the darkness of the Fort Jefferson prison in the remote Dry Tortugas.  I experienced the joy of being reunited with his family after nearly four years in Hell.  Mueller moves brilliantly from first person to third person to history professor as she weaves the story of a wrongfully imprisoned man with a solidly researched history of the event.  Her research was on the ground from Mudd's home, to Ford's Theater, and the Dry Tortugas with stops at every historical point experienced by Mudd.  It is one of those 'can't put it down' books" — Charlie Ochs, Station Manager, MoneyTalk 1010 - WHFS-1010-AM / 103.1-FM / 92.1-FM / 99.5-FM HD2
Pinata Publishing, 9780980916355, 243pp.
Publication Date: January 1, 2018
About the Author
Pamela Bauer Mueller was raised in Oregon. She has worked as a flight attendant, commercial model and actress, English and Spanish teacher and a U.S. Customs Inspector. She now lives on Jekyll Island Georgia with her husband Michael and their cats Sukey Spice and Morgan Maurice.
Pamela's children and young adult books have awarded her the 2006/2008and the 2009Georgia Author of the Year titles, three Mom's Choice and Children's Choice gold medals, the Independent Publisher Gold Book awards and other national awards with Writer's Digest and ForeWord magazines.  In her sixth historical novel, she introduces us to two female Civil War spies, Antonia Ford and Pauline Cushman, and their true stories of deep patriotism, deception and duplicity.
or
Not Currently Available for Direct Purchase