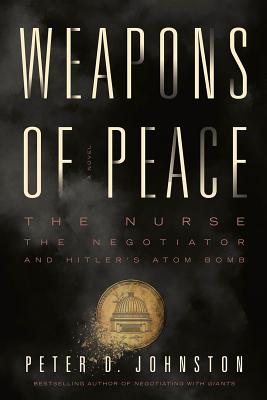 Weapons of Peace (Paperback)
Goldrook Publishing, 9780980942156
Publication Date: April 1, 2019
* Individual store prices may vary.
Description
What If the Nazis Developed the Atom Bomb First?

​Recovering from gunshot wounds and confined to an ancient English castle, America's top negotiator shares the secrets of his interrupted mission and his craft with the only person he dares to trust--a young British nurse with a troubled past. When she proves to be an exceptional student of his laws of influence, he urges her to help him complete his mission: Hitler has an atom bomb, and his scientists must be persuaded to undermine their own creation.

A Novel Inspired by Two True Stories
Peter D. Johnston, bestselling author and international negotiator, has crafted a thought-provoking thriller that immerses us in one of history's most pivotal moments. In this novel inspired by two true stories from the Second World War, a young British nurse and a seasoned American negotiator, both plagued by remorse, try to change the course of history--and their own lives.

Weapons of Peace races from an ancient English castle and a bizarre killing in Washington, D.C., to a scorched atomic test site in Germany and hidden passages forged under Berlin by resisters plotting to murder Hitler. Johnston's expert hand blends real-world historical material with heart-pounding action, unforgettable characters, and precious insights into influence and how the Nazis negotiated their way to power and kept it.
About the Author
PETER D. JOHNSTON is an internationally renowned negotiation expert and the bestselling author of Negotiating with Giants (nonfiction). His expertise--which has been formally recognized by the US Government for its positive impact--is sought worldwide by individuals and organizations. A former journalist and investment banker, he is a graduate of the Harvard Business School, and has been interviewed by CNN, ABC, FOX, The Wall Street Journal, The Globe and Mail and Oprah & Friends. Weapons of Peace is his first novel.