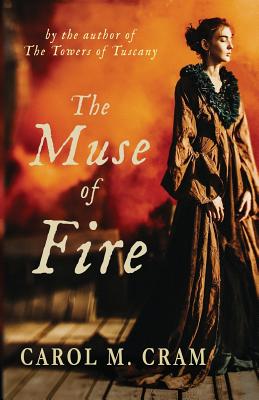 The Muse of Fire
Paperback

* Individual store prices may vary.
Description
Abandoned at birth, the grandly christened Edward Plantagenet rises from London's Foundling Hospital to take charge back stage at the Theatre Royal, Covent Garden, only to be blind-sided when he rescues Grace-a young woman escaping an abusive father. Grace finds an outlet for her passions as a Shakespearean actress, becoming ensnared by intrigues and setbacks that mar the pathway to stardom she craves. Set against the tumultuous backdrop of the Old Price Riots of 1809, Grace and Ned find common purpose in a quest that threatens to tear both their worlds apart.
New Arcadia Publishing, 9780981024141, 398pp.
Publication Date: January 9, 2018
About the Author
Carol M. Cram is the author of three novels of historical literary fiction. Her first novel, The Towers of Tuscany (Lake Union Publishing, 2014) and her second novel, A Woman of Note (Lake Union Publishing, 2015) were both designated Editor's Choice by the Historical Novel Society in the UK. A Woman of Note won First in Category for the Goethe award and The Towers of Tuscany won the Grand Prize Chaucer Award for best historical novel pre-1750 (Chanticleer Book Awards). The Muse of Fire is Carol's third novel and completes her themed trilogy about women in the arts. Carol is also the author of over fifty bestselling college textbooks in computer applications and communications for a major US publisher (Cengage Learning) and was on faculty at Capilano University in North Vancouver for two over decades. Carol holds an MA in Drama from the University of Toronto and an MBA from Heriot Watt University in Edinburgh. She lives with her husband, painter Gregg Simpson, on beautiful Bowen Island near Vancouver, BC, where she also teaches Nia, a dance/fitness practice.
or
Not Currently Available for Direct Purchase