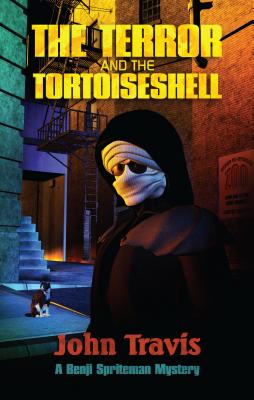 The Terror and the Tortoiseshell (Benji Spriteman #1)
Hardcover

* Individual store prices may vary.
Description
John Travis' first novel, The Terror and the Tortoiseshell, is a noir-styled murder mystery with deft touches of both the Comedy and Science Fiction genres, but primary in it is the honoring of the classic hard-boiled detective novels of the 1940s. Benji Spriteman takes over the Spriteman Detective Agency after the world is changed overnight by 'The Terror', resulting in the animal kingdom moving from four legs to two and banishing the now crazy human population from existence to become the dominant species. Oh, and Benji Spriteman is a sentient, six-foot tall, suit-wearing, tortoiseshell cat. Yeah, that's a bit of a jolt, especially to Benji. All I know is that I fell asleep in the old man's lap just after midnight on midsummer's eve and awoke when I heard screaming. Instead of being in Jimmy's lap I was sprawled across the dusty floor, and everything had changed; my sight, hearing and smell were all completely different. I also noticed that I seemed to be taking up a lot more floor space than I was used to. Initially it was the screaming that bothered me most. Apart from the noise in the office, it was going on outside too and not all of it was human; the air was filled with roars, grunts, howls; sniggers even. But the most disturbing noise was about eight feet away, coming from a bundle in the corner trying desperately trying to sink into the wall. It seemed to take twice as long as usual for my eyes to adjust to the darkness so I could make out what the bundle was. Jimmy. In this strange environment, which sees animals taking on some of the characteristics of the humans they were closest to, human beings have become a bit like flying saucers - despite occasional sightings, there is never any definite proof that they still exist. But when humans do start to appear it's always in the most bizarre situations - always dead, and 'displayed' as if they were animals. And it's just as Benji's life is starting to become a bit more 'normal' that he gets drawn into the investigation into these murders, and soon finds himself involved in ways he could never have imagined.
Atomic Fez Publishing, 9780981159737, 304pp.
Publication Date: March 26, 2010
or
Not Currently Available for Direct Purchase