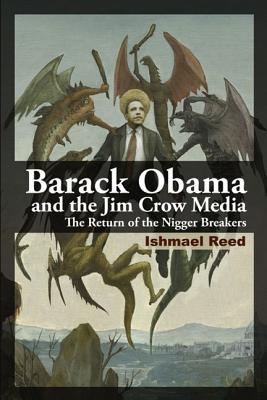 Barack Obama and the Jim Crow Media (Paperback)
The Return of the Nigger Breakers
Baraka Books, 9780981240572, 190pp.
Publication Date: July 23, 2010
* Individual store prices may vary.
Description
Angry and hilarious, this collection of satirical essays about Barack Obama confronts the racial tensions that have dogged the president during his campaign and first year in office. Some of the pieces include "Ma and Pa Clinton Flog Uppity Black Man," "Crazy Rev. Wright," and "Obama Scolds Black Fathers, Gets Bounce in Polls." Previously unpublished material also addresses the controversies around Henry Louis Gates, Jr. and Tiger Woods.
About the Author
Ishmael Reed is an important American poet, novelist, playwright, and song writer who has taught at Harvard, Yale, Dartmouth, and the University of California-Berkeley. He is author of "Japanese by Spring," "The Terrible Twos," and "Writin' Is Fightin': Thirty-seven Years of Boxing on Paper." He lives in Oakland, California.""
Praise For Barack Obama and the Jim Crow Media: The Return of the Nigger Breakers…
"There is brutal candour in Reed's argument, which often feels refreshing in light of the euphemisms and platitudes typically expressed in both polite discourse and the media's self-scrutiny . . . Whether or not one agrees with Reed, one can only be entertained by his gleeful barbs and edgy turns-of-phrase. He names names and shames with derision." —Montreal Review of Books
"Among American writers, Ishmael Reed is probably the one whose sensibility is closest to jazz." —New York Times
"The brightest contributor to American satire since Mark Twain." —Nation
"Reed's prose style resembles the youthful Ali's ring style." —New York Times Book Review
"Brilliant!" —Jill Nelson, award-winning novelist and journalist
"I hope his book will lead to more journalistic self-reflection and intellectual honesty." —Werner Sollers, Harvard University
"Just when you think that Reed is exaggerating, or being one-dimensional in his analysis of racial issues, he'll open another page of American history and show you something new." —David Homel, Rover Arts
"Reed's writing is incisive and astute; impassioned and amusing. He fully researches his topics and makes a decisive stand based on the facts, as he sees it. . . . An unabashed mixture of political polemic, scathing wit and cultural commentary -- a jazz-like riff that is purely Ishmael Reed." —phati'tude Literary Magazine (June 1, 2011)
or
Not Currently Available for Direct Purchase