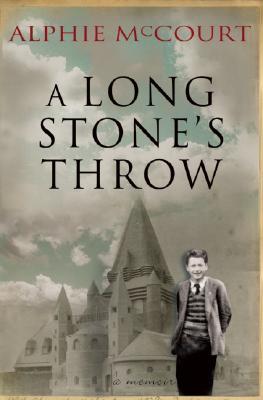 A Long Stone's Throw (Hardcover)
Sterling & Ross Publishers, Inc., 9780981453552, 267pp.
Publication Date: November 1, 2008
* Individual store prices may vary.
or
Not Currently Available for Direct Purchase
Description
The McCourt family gained fame through the books of brothers Frank and Malachy and in the two popular documentaries that profiled them. In "A Long Stone's Throw, " the youngest McCourt, Alphie, adds his gifted voice to this literary chorus with a vivid, emotional memoir that starts in his native Limerick. Alone and dispirited after his brothers leave for America, Alphie flees Ireland as soon as he's able. He spends the remainder of his adolescence in New York, aimless and half drunk. A return to Ireland to study law is a dismal failure. Back in America, things aren't much better until he reconnects with, and eventually marries, the beautiful Lynn. Still, things are rough: their daughter Allison is born with difficulties, business success alternates with business failures, he continues to drink. Finally, after an epiphany on Route 80, McCourt learns to navigate, clear-eyed, the happy chaos of New York City, and of life itself.
Praise For A Long Stone's Throw…
"This book is a nomadic adventure worthy of Ulysses. Sensitive, lyrical, funny, stubborn, impetuous, McCourt writes with a steady hand, a joyful heart, and an Irishman's sense of life's absurdities."
- Publishers Weekly

"The talent of writing seems to be genetic. A Long Stone's Throw visits another memoir of the McCourt family, the baby of the family, Alphie. Growing up in a rough family during a rough time, Alphie had an eventful life like his brothers. A whirlwind of a life brought him across the Atlantic and seemed to not have him have much rest, as he found himself in Canada, California, before finally finding stability in New York City. Another perspective of the McCourt family, A Long Stone's Throw is well worth the read."
- Midwest Book Review

"This book stands utterly and uniquely on its own. Beautifully written, with gentle wit, penetrating honesty and forgiving insight, it is a moving and poetic account of one man's long day's journey into light. I was entranced from first page to last. You will be too."
– Peter Quinn, author of Banished Children of Eve, Hour of the Cat and Looking for Jimmy
"Fans of
Angela's Ashes
will be fascinated by this alternate account of the McCourt family history. Alphie McCourt is a gentle, charming, philosophical narrator."
– Brooke Allen, literary critic and author of
The Moral Minority
"When the history of Ireland is written––the story of the ordinary and the extraordinary combined––the readers will thank the heavens for what the McCourt family have brought us.
A Long Stone's Throw
is humble, humorous and honest. Alphie McCourt moves fluidly through time and geography, to bring us a brand new story, one that is necessary and real, one filled with tenderness and redemption.
– Colum McCann, author of
Zoli
and
Dancer
"Life can be terrifying—or it can be amusing. Alphie McCourt has captured the rhythm of life as he has lived it, first in Limerick City, then in New York City. Nothing escapes his attention, be it the little mouse scraping among the poor McCourts for food in Ireland, the inanity of being a #10 can food inspector in the U.S. Army, the workings of New York's saloon societies, or the search for the ultimate mortal sin—sex.
A Long Stone's Throw
is marvelously and sensitively written. It will make you laugh, cry and thank God you were lucky enough to find this book. Alphie McCourt is a uniquely talented memoirist."
– Dermot McEvoy, author of
Our Lady of Greenwich Village
and
Terrible Angel
"In this time of anxiety about immigration, here is evidence of how essential to our sanity and our sense of the absurd, is a frequent transfusion of Ireland. This book is like an evening with a wonderful storyteller who describes scenes and people and events so vividly, and with such sly wit, that he transports you along with him on his journey. Here is a great immigrant tale, told with such charming modesty that it goes down like a smooth draught of ale."
– Samuel Gibbon, Emmy-winning producer of
Sesame Street
and
The Electric Company
"The world, courtesy of Alphie McCourt's fertile prism of seems once again full of the promise of tomorrow. A memoir, yes, but so wickedly sly and witty––no self-pity here––in the talented hands of Mr. McCourt, the very word memoir seems inadequate."
– John Mulholland, writer/director of
The True Gen
"My brother Alphie is a writer, and always has been, but it's public now. He has written a memoir where his unique voice, great style and literary talents shine through. It's a funny, sometimes sad saga, but you will be delighted you read it."
- Malachy McCourt, author of
Singing My Him Song
and
A Monk Swimming
Advertisement