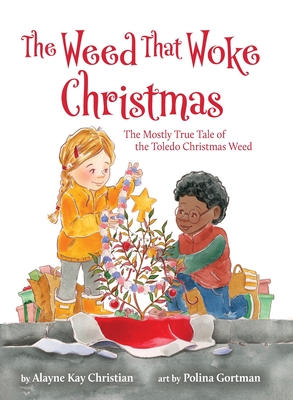 The Weed That Woke Christmas
The Mostly True Tale of the Toledo Christmas Weed
Hardcover

* Individual store prices may vary.
Other Editions of This Title:
Paperback (10/1/2020)
Description
"A heartwarming holiday tale that proves even the littlest things can make a big difference."--Kirkus Reviews
"The fine message about holiday spirit makes for a perfect read for parents seeking stories that encourage kids to feel empowered to begin changes that cross age and economic barriers. The Weed That Woke Christmas is a lovely, positive, much-needed story for modern times."--D. Donovan, Sr. Reviewer, Midwest Book Review
This heartwarming and inspiring book proves that even the smallest gestures can make a big difference and transform apathy and oblivion into awareness, unity, community, kindness, and hope. Partly truth and partly fiction, it is based on the moving true story of how a weed on a Toledo street corner helped spread the giving spirit far beyond its traffic island home. All Weed wants is to be seen, but people are in too much of a hurry to notice each other, let alone Weed. Weed watches, wishes, and waits until finally someone does see it. But Weed discovers that there is something far bigger and more important than a little weed being noticed.
"This sweet story is accompanied by lush illustrations by Gortman, who portrays Toledo's citizens as diverse. The author manages to convey the importance of charity and community without making the tale mawkish or trite. She closes the text with the real story of the Christmas Weed and the hope that the holiday magic will continue."--Kirkus Reviews
Blue Whale Press, 9780981493817, 40pp.
Publication Date: October 1, 2020