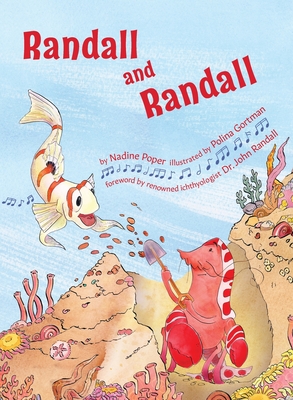 Randall and Randall
Hardcover

* Individual store prices may vary.
Other Editions of This Title:
Paperback (5/12/2019)
Description
"Young readers get a slice of science in this undersea tale about symbiosis. . . . The ingenious aquatic tale also encourages readers to realize they can find friendship even if they don't see eye to eye with their cohorts." --Kirkus Reviews (a starred review)
Randall, the pistol shrimp, is a master at excavation. Randall, the goby fish, is his skittish, yet happy-go-lucky watchman. The problem is that both have quirks that drive each other bananas until one day their relationship is driven to the breaking point. This very funny informational-fiction story about one of the sea's naturally-existent odd couples illustrates how certain species depend upon their symbiotic relationship for survival. It also shows children how two very different beings can embrace each other's peculiarities and become best of friends. Foreword written by Dr. John E. Randall, senior ichthyologist emeritus, Bishop Museum, Honolulu, Hawaii.
"Based on a real-life symbiotic relationship, this silly tale makes the science approachable through the goby's giggle-worthy antics. Notes from ichthyologist Dr. John Randall describe the phenomenon for adults, and Gortman's closing illustrations supply diagrams of the charismatic creatures. The picture book's cartoonish interior images deftly mix human and animal characteristics . . . Poper's simple English text seamlessly introduces a few straightforward Spanish-language phrases due to the coastal Mexico setting." --Kirkus Reviews
Blue Whale Press, 9780981493879, 32pp.
Publication Date: October 1, 2019