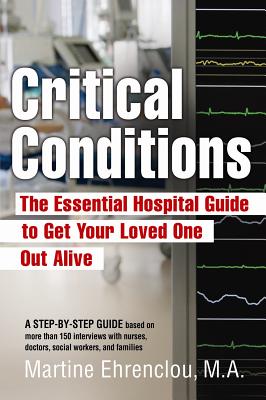 Critical Conditions (Paperback)
The Essential Hospital Guide to Get Your Loved One Out Alive
Lemon Grove Press, 9780981524009, 227pp.
Publication Date: January 8, 2019
* Individual store prices may vary.
Description
Hospital patient care has become hazardous to the patient's health. There must be someone, a family member or good friend, to oversee and monitor the patient's medical care. Learn how to prevent medical errors, medication mistakes, hospital-acquired infectious diseases, and much more. Reach the doctors when you really need them - every time. Navigate the hospital with confidence.
Critical Conditions (winner of 16 book awards) is a step-by-step guide based on over 150 interviews with registered nurses, physicians and hospital staff, Ms. Ehrenclou's own experiences with hospitalized family members and hundreds of hours of research. It is a book for family members written by a family member who has been there. A reported quarter of a million deaths in hospitals nationwide were found to be preventable (The Fifth Annual Health Grades Patient Safety in American Hospitals Study, 2008). If someone has a parent, spouse, sibling or child in the hospital, they must get actively involved in the patient's care to prevent medical errors. Hospitalized patients are recovering and cannot do this for themselves.
About the Author
Martine Ehrenclou is an award-winning author, freelance journalist, blogger and patient advocate. Her newest health book, The Take-Charge Patient: How You Can Get The Best Medical Care, is the winner of 18 book awards and empowers readers to become proactive and effective participants in their own healthcare. Through her books, lectures, published articles and blog, Martine reveals insider information on how to interact effectively with medical professionals and navigate the healthcare system with confidence. Martine regularly publishes articles on topics of patient empowerment, patient advocacy, patient engagement, patient safety, the partnership between physicians and patients, and other health/medical related issues. She has been interviewed on national TV and radio, for magazines, newspapers and websites, including NBC News, ABC News, CBS News, NPR, Prevention Magazine, Woman's Day, MORE Magazine, Family Circle, and many more. Martine lectures at universities, health organizations, disease organizations, and hospitals. She received her masters degree with honors in psychology from Pepperdine University, Los Angeles and earned a certificate in patient advocacy from University of California, Los Angeles (UCLA).
Praise For Critical Conditions: The Essential Hospital Guide to Get Your Loved One Out Alive…
Awards:

- Winner of the best How-To Book of 2008 DIY Book Festival Awards

-Winner of the Best Health Book of 2009 from Allbooks Review Editor's Choice Award.

What are the chances you'll never have to be there for someone in the hospital? Zero. At some point you'll be called into life-and-death matters. Now, Martine Ehrenclou helps us all with Critical Conditions... Her concise guide includes a workbook to apply the rules to your own situation. It's a godsend! ---Los Angeles Times Magazine, Annie Gilbert, Editor in Chief --Los Angeles Times Magazine

Winner of ForeWord Magazine Book of the Year Awards 2009, Health Category.


Critical Conditions: The Essential Hospital Guide to Get Your Loved One Out Alive is a recipient of the prestigious Mom's Choice Award for Best Health/Safety Book, 2010. The Mom's Choice Awards honors excellence in family-friendly media, products and services. An esteemed panel of judges includes education, media and other experts as well as parents, children, librarians, performing artists, producers, medical and business professionals, authors, scientists and others. A sampling of the panel members includes: Dr. Twila C. Liggett, Ten-time Emmy-winner, professor and founder of Reading Rainbow; Julie Aigner-Clark, Creator of Baby Einstein and The Safe Side Project; Jodee Blanco, New York Times Best-Selling Author; LeAnn Thieman, Motivational speaker and coauthor of seven Chicken Soup For The Soul books; and Tara Paterson, Certified Parent Coach, and founder of the Mom's Choice Awards. Parents and educators look for the Mom s Choice Awards seal in selecting quality materials and products for children and families. This book/product has been honored by this distinguished award.