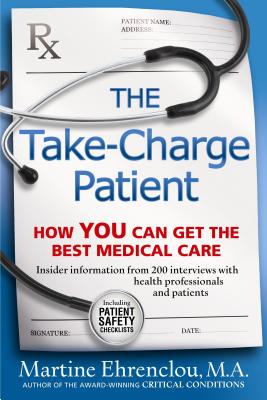 Take-Charge Patient (Paperback)
How You Can Get the Best Medical Care
Lemon Grove Press, 9780981524030, 304pp.
Publication Date: January 9, 2019
* Individual store prices may vary.
Description
The Take-Charge Patient Puts the Expertise of 200 Medical Professionals in Your Hands.
Frustrated or confused about how to get good medical care? In her newest book, The Take-Charge Patient: How You Can Get The Best Medical Care, (winner of 18 book awards) author and patient advocate, Martine Ehrenclou, empowers patients to become proactive, well informed participants in their own care. With advice and personal stories from over 200 doctors, nurses, pharmacists, health psychologists, patients and more, The Take-Charge Patient reveals insider information on how to cut through the red tape and navigate today's complex health care system with confidence.
Ehrenclou empowers readers with vital information on how to find the right doctor, how to communicate effectively with doctors, how to prepare for medical appointments, prevent medical errors and medication mistakes, obtain discounted medication, manage your health insurance, and much more. The Take-Charge Patient will forever change how you act as a patient and thereby vastly improve the quality of the medical care you receive.
Six months into her research for The Take-Charge Patient, Martine Ehrenclou developed debilitating, chronic pain and used every strategy in her new book. She went from author and advocate for others to an advocate for herself and became a take-charge patient. After eleven doctors failed to diagnose her correctly, Martine found her own diagnosis and the correct surgeon to treat her. She is now pain free.
According to Ehrenclou, your health care is a team sport. The Take-Charge Patient shows you how to take charge of what you can and become an effective player. Martine Ehrenclou has also written the 16 award-winning Critical Conditions: The Essential Hospital. Guide to Get Your Loved One Out Alive (Lemon Grove Press). Ehrenclou writes monthly articles for several health websites, national magazines, and is interviewed regularly on national TV and radio such as ABC News, ABC World News, Woman's Day, Family Circle, Los Angeles Times Magazine, Publishers Weekly, and many more. She frequently lectures on how to be an advocate for yourself and your loved ones at universities, hospitals and various organizations.
About the Author
Martine Ehrenclou is an award-winning author, patient advocate and speaker. Author of the multiple award-winning, Critical Conditions, and her newest health book, The Take-Charge Patient, Martine is focused on empowering patients so they become experts on how navigate and take charge of their medical care. With her last book, Critical Conditions, and her newest book, her mission is to bring to light the importance of being an advocate for others and for ourselves. Through her books, published articles, media interviews, and lectures, Martine Ehrenclou reveals insider information on how to work the healthcare system for the patient's benefit.Through her extensive research and her own recent chronic pain medical condition, Martine learned firsthand how to be a take-charge patient by using her own strategies in her new book. She went from author and advocate for others to an advocate for herself. After seeing eleven physicians, undergoing nine procedures and surgeries, being prescribed twenty-two medications, she finally found a doctor who diagnosed her correctly and cured her medical condition.Martine writes monthly articles for several health websites, regularly publishes articles on the topics of patient empowerment, patient advocacy, patient safety and other health/medical related issues. She consistently receives national exposure and is interviewed by TV, radio and other media. Martine lectures at universities, hospitals, organizations and libraries, and writes a monthly blog and newsletter.
Praise For Take-Charge Patient: How You Can Get the Best Medical Care…
Hidden hernias: Painful holes in muscle are often misdiagnosed or overlooked in women
08/04/2011 01:00:00 AM PDT
Online and in print
http://www.dailynews.com/health/ci_18611574
Sometimes life imitates art.
With author Martine Ehrenclou, such was the case when she was writing her book "The Take Charge Patient."
In January 2010 -- six months into researching how to be an advocate for your own health -- Ehrenclou began having debilitating pelvic pain.
Over the next 16 months, the now 51-year-old Los Angeles resident's journey took her through the doors of 11 doctors, including gynecologists, urogynecologists, neurologists and urologists.
None of them accurately diagnosed her or rid her of the pain that was so intense it would radiate down her legs and into her lower back.
But just like what she was writing about, she took charge of her own health.
"I learned by doing, I learned myself," Ehrenclou said. "It's really just the oddest story. I ended up living each chapter of my book and being an advocate for myself. I became the take charge patient that I talk about."
Her persistence to find an accurate diagnosis led her to Dr. Shirin Towfigh at Cedars-Sinai Medical Center, who finally discovered the hidden culprit responsible for Ehrenclou's torture: hernias.
A hernia is a hole through the muscle wall that has something going through it such as fat, intestine, stomach, ovaries or bladder, depending on the location of the hernia.
Hernias are generally thought of as a man's problem. Inguinal hernias -- hernias that appear in the groin -- are 10 times more common in men than in women, says Towfigh.
In men, that kind of hernia is relatively easy to diagnose, since a large bulge appears in the groin. But with women, hernias are generally smaller and therefore do not present a bulge, making them harder to diagnose.
Though women are less likely to have visual symptoms, they are more likely to have pain.
Ehrenclou's other symptoms included bloating in the lower abdomen, bladder pain, urgency to urinate and vaginal pain and burning.
"For women, it's usually misdiagnosed as other things because on exam you can't feel it necessarily -- so muscle strain, any pelvic problem, endometriosis, ovarian cysts, fibroids," Towfigh said.
"A lot of women have that already, so when they're getting the work-up to figure out what's causing the pain, they say, Oh it's your fibroids' or You know, it's your ovarian cysts.' And the treatment is either not much or is targeted toward those issues without really dealing with the hernia problem."
The key to accurately diagnosing the hernia is anatomy, says Towfigh.
About two-thirds of the way over from the hip bone there will be a point of tenderness, which Towfigh says is indicative of an inguinal hernia.
Also important are the questions the physician asks.
Does the pain get aggravated by certain activities, such as coughing, laughing, getting out of bed, certain exercise activities, or anything that increases abdominal pressure? Is it best when you're lying flat on your back?
Ehrenclou had the answers to these questions.
Her pain occurred when she coughed, every time she got out of bed and when she bent over.
To Towfigh, it was a classic case of an inguinal hernia, and yet the doctors before had missed it.
"If you're a hammer, everything kinda looks like a nail, so you're kind of within your own specialty. They were on the right track, it's just that nobody went that extra step to figure it out," Towfigh said.
"And there are a couple of issues -- hernias are very common and yet it's amazing how so few hernias are actually diagnosed unless they are very obvious. The obvious ones, you have a big bulge so, yeah, you have a hernia.
But the smaller ones, I don't think people really appreciate as much the intricacies of a smaller hernia."
There are anatomical areas prone to getting hernias including the groin and the belly button, but they also can occur anywhere there has been an incision through the muscle wall, as with abdominal surgery.
Ehrenclou has had three abdominal surgeries, including a C-section and repair of a previous hernia at her belly button when she was pregnant.
Ehrenclou's intuition told her it was a problem related to her previous surgeries, such as scar tissue or adhesions.
She asked the doctors for an MRI, but none of them thought it was necessary.
She even called a radiologist she knows and asked what kind of test she should have. He told her to just go along with whatever her doctor recommended.
It wasn't until Ehrenclou got to Towfigh's office that an MRI was done, the results of which showed a muscle tear at her C-section site, an inguinal hernia with a nerve going through it and a hernia at her belly button.
Even if a prior doctor had ordered an MRI, Towfigh says, it's unlikely they would have caught the hernias because that wasn't what they were looking for.
"It's not on their radar screen and it's not on the radiologist's radar screen either," Towfigh said. "So a doctor will order a test like a CAT scan, or an ultrasound, or MRI and then they will look for other things -- diverticulitis, tumor, ovarian problems -- and totally miss that there's a hernia there."
To prevent this, Towfigh says, she has learned to read her own radiology films instead of relying on the report given to her by the radiologists. She also has developed a relationship with the radiologists to ensure they are looking out for hernias.
They have developed a protocol for patients who have had surgery before or when it's suspected they have a small hernia. Those patients get a dynamic MRI, in which the area of pain is marked and they are asked to re-create the abdominal pressure. As they do this, a live, moving MRI is taken.
Generally, an ultrasound is the cheapest way to detect a hernia, but for those who have had any surgery in the past, it is not as effective because of scar tissue and mesh remaining after the operation.
In Ehrenclou's case, surgery was needed, but not all hernias need to be repaired.
"The purpose of the surgery is really to improve quality of life, so if they are in pain then they should have it fixed," Towfigh said. "If they are not in pain and they have a hernia, I wouldn't recommend surgery."
There are two main complications that can occur with hernia surgery, including chronic pain due to the suturing, mesh, nerves in the area or inflammation. Surgery also can cause recurrent hernias, which only about 15 percent of surgeons nationwide can fix laparoscopically, because of the difficulty of the procedure.
But for Ehrenclou, surgery wasn't even a question.
She had her hernias repaired about five weeks ago and has been pain free ever since.
"It's such a gift," Ehrenclou said. "I'm so grateful."
She is back to doing the things she loves including dancing, exercising and being able to sit down and finish her book.
Despite all of her research for the book, due out next year, one way she recommends to be a take-charge patient came from her own experience.
"Go see a doctor who is affiliated with a highly respected medical school, because they are on the cutting edge of research," Ehrenclou said. "They are in the trenches and I think they are a little more aware."
Hernia prevention tips
Though some people may be genetically predisposed to getting hernias, and the risk increases with age, Dr. Shirin Towfigh has advice on how to prevent
them:
            Maintain a healthy, normal weight.
            Improve your muscle mass with exercise.Your body has a natural shutter mechanism to help prevent hernias so if you can maintain the health and girth of your muscles, then you're less likely to have hernias, Towfigh says.
            Don't smoke.
            Avoid constipation because it's another way of increasing your abdominal pressure.
            Avoid chronic cough.
My Patient Safety Checklist and Tools to Use
Lumigrate
Feb 13, 2012
Martine Ehrenclou's Patient Safety Checklist for Patients" 
Patient Safety Checklists Save LivesIf you are a patient in the hospital, use this checklist to prevent life-threatening medical errors.
Surgical safety checklists have been shown to be very effective in reducing fatal medical errors when used by surgeons and members of the surgical team. The Harvard School of Public Health and the World Health Organization conducted a study led by Atul Gawande (
The Checklist Manifesto
) and it revealed that patient deaths and complications were reduced by one third.I created a Patient Safety Checklist for patients and their advocates to use in the hospital to prevent fatal, medical errors. Imagine if patients and their family members worked together in partnership with hospital medical professionals to decrease medical errors that result in nearly a quarter of a million preventable deaths http://www.hearst.com/press-room/pr-20090809b.php I believe in a collaborative effort because hospital medical staff simply cannot do it all. Physicians and nurses deal with patient overload, meaning they are often caring for too many sick patients at one time.
Martine Ehrenclou's Patient Safety Checklist
As a patient in the hospital, you will use this checklist as a safety measure with each new medical professional who administers treatment. Verbally repeat these items before you have surgery, treatments, procedures, and are given medications. Your full name and birth date. Your medical diagnosis. Your primary physician's name. Your current list of medications, dosages, and allergies to medications. If you are to have surgery, verbally repeat the name of the surgery and the location of the surgery site on your body. If you are to have a treatment or procedure, verbally repeat the name of the procedure and what medical condition it is for. If you are shy about verbally repeating a checklist to a medical professional, you can ask politely like this:
"Would you mind if I go over a few things before we begin? I'm not doubting you, I just want to play a role in my safety."Tools To Help Implement The Patient Safety Checklist
Your Advocate.
If you are a patient in the hospital, ask a family member or good friend to oversee and monitor your care. He or she can implement these strategies if you are unable.
The Success of Checklists Includes Repetition.
Verbally repeat the items of The Patient Safety Checklist with each new medical professional who administers medical treatment.
Safe Surgery.
If you are to have surgery in the hospital, ask your loved one who is acting as your advocate to accompany you to the operating room. He or she will not be allowed inside. Ask to see the surgeon or other members of the surgical team. Go over your checklist with the medical professionals: patient's name and birth date, allergies to medications, name of surgery and the correct site on the body which is to be operated on. You can mark this yourself with a permanent marker or ask the surgeon to do it.
Monitor Medications
. If medications are to be administered, go over your list of medications, dosages and allergies to medications with the medical professionals. If you don't recognize a medication or something seems unusual or out of the ordinary, speak up. Ask questions.
Hospital Infections Are Real Threats to Your Safety
. To prevent the spread of hospital infections, ask everyone who comes in contact with you to wash their hands. In a respectful manner, ask all physicians and nurses to wash their hands and put on disposable gloves before touching you. Get a private room if it is feasible. If you do not have a roommate, it cuts down on the number of people who enter your room.
Falls Can Happen To Anyone
. If you are at risk for falling out of bed due to sedation, recovery from surgery or confusion, ask a loved one to be at your bedside at all times to help you. Patients often try to get out of bed to go to the bathroom and fall, which can cause serious injuries. You can hire a nurse or sitter to fill in for loved ones.
Nobody Wants Skin Breakdown, aka "Bedsores"
. If you are immobile in your hospital bed, your body needs to be turned regularly to prevent bedsores. Ask your advocate to work with your primary nurse to make sure that your body is turned the appropriate number of times in a day to prevent bedsores. Similar concepts for if you are sitting up; proper positioning and cushioning is essential.
Ask Questions
. If you are unclear about any aspect of your medical care or treatment, ask questions. Physicians and nurses are dealing with patient overload and most are doing the best they can. You can partner effectively with them to keep yourself safe in the hospital.
12 Tips to Prevent Misdiagnosis, Lumigrate, Dec. 2011,A misdiagnosis occurs when a medical professional inaccurately comes to a conclusion about what is wrong with the patient. About one in twenty in-patient hospital deaths are attributed to misdiagnosed illness. In or outside of the hospital, about one in six of us throughout our life time, will be subjected to a misdiagnosis by a medical professional.
Why Misdiagnosis Occurs
There are several reasons misdiagnoses can occur. They include the following: "Premature closure"--a failure on the part of the medical professional to consider all possible diagnoses. Specialists see only their specialty and not the whole patient. When lab test results are not ordered or test results are not followed up on. When patients see several different health care providers who do not communicate with one another. When patients do not provide a complete health summary and medical history. Poor communication between doctors/their staff and patients.
12 Tips To Help Prevent Misdiagnoses
Come prepared to the doctor visit with a health summary, copies of pertinent medical records, list of medications and their dosages, over-the counter medications, herbs and supplements, allergies to medications and more. Be prepared to present a packet of information to each and every doctor you see. This also prevents the problem of misplaced, lost or inaccurate medical records. Come prepared with a list of questions. Ask for a diagnosis from your doctor. Ask why it is suspected. Ask your doctor if there are any other possible diagnoses for what you have. Enlist a family member or good friend to be your
advocate
. (S)he will be your second set of eyes and ears. Ask her/him to take notes on conversations with physicians, whether you are in a doctor's office or in the hospital. Create a list of all your symptoms. If you are in the hospital, ask your advocate to help you with this. Record the time of day your symptoms occur and what makes them better or worse. List what you have tried to make the symptoms better. Follow up on your test results. If you are in the hospital or seeing a medical professional in an office, ask for your test results and for a copy. If a copy isn't available at that time, ask your advocate to write down what the results mean. Research your condition or diagnostic tests online and/or at your local library. If you are in the hospital, ask your advocate to do this for you. Your hospital may have a library with information. Research your diagnosis. If you are uncertain about it, create a list of questions and make a time to talk to your doctor. Get a second opinion. If you are unconvinced about the diagnosis you are given or simply are not getting better, find another doctor to give you a second opinion, preferably one who is board certified in her specialty, and who is affiliated with a respected medical school. Ask for lab tests to be repeated. Doctors can make mistakes, as can radiologists, pathologists or other lab technicians. Speak up. Ask questions. Be assertive. Many of us are nervous or anxious when talking with our doctors or other medical professionals. Remember that
you
know your body best, and the more information you gather and contribute, the more confident you will feel.
Older Patients Are At Risk in the Hospital, Lumigrate, OCt. 2011
Older Patients Are At Risk in the Hospital - How To Be An Advocate for Your Parent, Grandparent, Spouse or Other Older Loved One
You might think that admitting an older adult to the hospital is as simple as dropping them off at "Admitting" and allowing the hospital staff to take care of the rest. Think again. Older adults desperately need your help because a hospital stay can be fraught with medical errors, medication mistakes, falls, infectious diseases and a host of other life threatening events.Hospital medical staff want the very best medical care for your older loved one but they are under tremendous pressure. Few can overcome patient overload, a nationwide nursing shortage and a developing physician shortage. Many hospitals in the U.S. suffer financial duress, rendering them unable to accommodate the many needs and vulnerabilities of older adults.Enter the patient advocate. You as a family member or good friend must monitor an older adult's medical care and provide support during a hospital stay.
Hospital Risks for Older Patients
Delirium occurs in 1/3 of hospitalized patients over the age of 65 and in more than 70% of older people in Intensive Care Units. Reasons for this include serious illness, exposure to new medications, disruption of normal routines and sleep disturbance. Family members are often the first to notice changes that might indicate delirium. If an older adult cannot reposition himself, he is at risk for pressure ulcers (bed sores). Pressure ulcers affect 1 million adults annually. Older patients may have multiple medical issues, requiring several specialists to be involved in his case. This can be confusing and difficult to coordinate for any patient. New medications may be introduced which can lead to side effects. Older patients may already be taking multiple medications which can lead to adverse effects. Older adults are at risk for falls, especially if they are sedated or disoriented. Among older adults, falls are the leading cause of injury and deaths. Older adults can be at risk for malnutrition. Studies cite that 58% of patients 65 and older have problems eating. Nutritional status of older patients has been reported to diminish in hospitals. This can slow recovery. The spread of infectious diseases such as MRSA and pneumonia are rampant in hospitals. The reason pneumonia acquired in the hospital is more severe may be due to the more aggressive infecting organisms, making it harder to treat.
What a Patient Advocate Can Do
Patient's Medical History
. Bring in your loved one's complete medical history. An older patient in the hospital may be too ill to gather the information.
List of Patient's Medications
. Bring a current list of the patient's medications, including over-the-counter mediations, herbs and supplements. Include allergies to medications.
Glasses and Hearing Aides
. Be sure your loved one has his or her glasses and any hearing aides.
Make the Patient's Hospital Room Like Home
. Older patients do better in the hospital if some of their routine and sense of familiarity is preserved. Bring in the outside world to their hospital room. This includes a cozy comforter, photos of family and friends, a clock to help them keep track of time, bathrobe, their address book should they want to contact loved ones, books, newspapers, MP3, CD, DVD or tape players with familiar programs or music.
Bed Sores.
If the patient is unable to reposition himself in bed, monitor how many times his body is turned to prevent pressure ulcers (bed sores). Ask the patient's primary nurse to help you with this.
Meet the Doctors
. Be present during doctors' rounds to have face-to-face interactions with the physicians. You want these medical professionals to see you as a human being who is involved with the patient. Create a list of questions ahead of time and document the answers in a notebook.
Be Aware of Behavior and Mood Changes
. Document in a notebook how the patient is doing on a daily basis. Be aware of any sudden mood or cognitive changes in the patient such as drowsiness, apathy, confusion, little or no speech or movement, agitation or hallucinations. If you notice a sudden change, bring it to the attention of the patient's physician and primary nurse and ask for an evaluation.
Monitor meals.
Sometimes older patients have a difficult time eating and may need some assistance. The meal tray can be taken away before it has been consumed. Monitor dietary restrictions to make sure the patient receives meals the doctor has ordered. You can also bring in meals from home, but check with the patient's primary nurse first.
Prevent Falls
. If your loved one is at risk for falling, be at bedside at all times. You can create a Family Advocate Team with other loved ones taking shifts. This prevents the need for restraints.
Prevent Diseases in the Hospital
. To prevent the spread of hospital-acquired infectious diseases such as MRSA and pneumonia, ask everyone who comes in contact with the patient to wash their hands. An older patient may not be up to this task. You can create a hand-made sign to be placed on the wall above the patient's bed that says, "Please wash your hands before touching me." Place anti-bacterial gel by the patient's bed and ask everyone to use it. Try to get your older loved one into a private hospital room--this cuts down on the cross contamination of diseases considerably.
Provide Comfort
. Last but not least, provide comfort to the patient. He or she may be frightened in the hospital and may feel even more uncomfortable with the loss of control than you might. Reassure him that he will get better and that you and your Family Advocate Team are watching out for him.
 Comprehensive and thorough, The Take-Charge Patient provides patients with informed checklists to ensure they get the best care possible. An excellent resource for patients.
-- Peter J. Pronovost, MD, PhD, FCCM, Professor, Johns Hopkins University School of Medicine, and Bloomberg School of Public Health; Medical Director, Center for Innovation in Quality Patient Care   It's time the medical system worked for YOU! Health advocate Martine Ehrenclou comes to the rescue, showing you how to go from being a "medical victim" to a "take-charge patient.-- Jacob Teitelbaum, MD, Author, Beat Sugar Addiction Now!, From Fatigued to Fantastic, Real Cause Real Cure and Pain Free 1-2-3
  This book helps everyone to learn how to make successful health care happen by focusing on people-to-people interactions and relationship building. It is an important contribution from the enlarging community of patient advocates and provides everyone with core information on how to become a successful patient in today s complicated health care environment.
-- Peter B. Angood, MD, CEO, American College of Physician Executives
Martine's book helped me take action for my son's illness. By following her guidelines and creating a patient summary of all symptoms and medications he had taken to chart the course of his illness, I was able to assert myself in getting him seen more quickly and being taken more seriously. Martine's book was a godsend. Following her lead has helped me feel more in control indealing with the medical world.   -- Marlu Harris, MFT
Take the guesswork out of your medical system experience by letting Martine Ehrenclou be your guide. You will not find a better ally.
-- Larry Dossey, MD, Author, Healing Words, Reinventing Medicine, and The Power of Premonitions   The Take-Charge Patient should be considered the Bible of the participatory medicine movement. Ms. Ehrenclou s book is written for easy understanding, with every topic a patient, caregiver, or advocate could think of. There are checklists which make organization of thoughts more simplified. Regardless of one s educational or medical experiences, this book will serve to assist anyone going to an initial doctor visit or facing a complex medical diagnosis. She has a rare empathetic view encompassing patients, caregivers, and health care providers. I recommend that the government and every health insurance company give this book to their consumer/patients.-- David Lee Scher, MD, FACP, FACC, FHRS
Martine s insights in this book are invaluable. The strategies and recommendations provided are presented in an easy-to-assimilate style. This book should be mandatory reading for all patients, particularly those searching for a new physician, or facing the prospect of a major procedure or surgery.
-- Daniel Wohlgelernter, MD
This book is the encyclopedia for ensuring the best medical care and the how to accomplish it for all non-medical people. It is exceptional and invaluable, the essential tool for obtaining and coordinating your care needs and making sure they are met. Every family needs this book for helping aging parents, ill children and yourself.-- Jackie Koob, BSN, RN
What role can patients play if they want to get the best medical care? The answers are in this excellent book. Martine Ehrenclou has provided very useful recommendations for people to maximize their chances of getting the best medical care they can. Utilizing the recommendations and patient safety checklists in this book is the best way to influence your doctor to treat you in the most appropriate way possible. You need to influence your doctor to make the effort to give you the best care he can.
-- Larry Miller, MD, FACP, Clinical Professor, UCLA David Geffen School of Medicine   This useful book provides a roadmap to help patients to navigate the health care system and regain control. Martine Ehrenclou provides a balanced set ofsuggestions for things to do   and not to do   all organized intocommon-sense categories and simple checklists. And she has road-tested virtually all of it herself. This book explains how you can become your own best advocate, and improve your chances to benefit from the care you receive.-- Albert W. Wu, MD, MPH, Professor/Director, Center for Health Services and Outcomes Research, Johns Hopkins Bloomberg School of Public Health
 The definite guide to personalized medical care. The book encourages patients and medical providers to become advocates so together they can
improve medical outcomes.   -- Jack C Rosenfeld, MD   
Martine Ehrenclou's strategies in The Take-Charge Patient are not just a 'must read', but a 'must do!' for literally all people who value their wellness. Having this tool in your toolbox will greatly increase your effectiveness.-- Mardy Ross, Founder, Lumigrate: Lighting the Path to Health and Well-Being
A brilliant and powerful roadmap for our success. The Take Charge Patient masterfully assists us in knowing how to take care of ourselves medically in this very challenging world.
-- Debbie Robins. M.A., Huffington Post   Consider this book your healthcare GPS   an essential reference and toolkitfilled with practical advice on navigating this country's complex medical system. Put this at the top of your reading list!
-- Zouhdi Hajjaj, MD, Internal Medicine 
  Martine Ehrenclou has produced the best practical step-by-step guide for patients and caregivers ever written. The Take Charge Patient not only explains the medical treatment landscape but, in simple language, explains exactly what the patient must do to navigate the health care system. It isn t if but when each of us will face this ourselves or in our family. The Take Charge Patient is probably the most important book you will ever add to your library.
-- Wayne Parsons, Attorney, Board of Governors American Association for Justice
Chapter excerpt from The Take-Charge Patient published on KevinMD, April 6, 2012 An excerpt from
The Take-Charge Patient: How You Can Get The Best Medical Care
(Lemon Grove Press) which will be released May 15, 2012.
Your Relationship with Your Doctor
"A good relationship with your physician can lead to better medical care."
-Zouhdi A. Hajjaj, MD, internal Medicine, Yarmouthport, MAYour relationship with your doctor is an important one that can last for many years. It is a partnership. You and your doctor collaborate to maintain your good health and to treat any medical conditions, illnesses or injuries that occur. A good doctor-patient relationship includes mutual trust, respect and good communication.
Communication
Communication is one of the major components of a good relationship with your doctor. If you and your doctor don't communicate well this increases the probability for medical errors, erodes trust, and can ultimately compromise your medical care.Good communication means that you and your doctor work as a team.Good communication includes: listening to your doctor; feeling listened to and understood; focusing on specifics and not veering from your main concerns; looking at one another in the eye; mutual respect; conversing with your doctor, engaging in a dialogue; being honest; speaking the same language; asking questions; and more.
Speak in an Even Tone
Try not to get overly emotional. Doctors are cognitive thinkers and many have said that it's easier for them to communicate with patients who are not overly emotional, who stay on track, keep things simple and organized and stay on point. Doctors are affected by your demeanor and if you are melodramatic, it can turn your doctor off. You don't want your doctor to stop listening to you.If you can use medical terminology, you might find that your doctor listens to you more.
Be Honest with Your Doctor
Resist lying or holding things back. Your doctor cannot do her job if you aren't forthcoming. Share your symptoms, bad habits, side effects of medication and medications you have stopped taking and more. If she has recommended a test that you didn't follow though on, tell her. Be upfront.
Gee, Doc, I'm Scared
If there is something about your health that is scaring you, bring it up to the doctor. It's not easy being vulnerable in this way but keeping it to yourself makes it worse! If you're scared, tell the doctor. You might just get some reassurance that you are not dying of a brain tumor.For example, "Doctor, I've been worried I might have cancer. My sister was just diagnosed with breast cancer and I have not been feeling well." Then list your symptoms, explain why you are afraid and enter into a conversation about your health.
I'm Embarrassed
Many doctors speculated that patients wait too long to come in for an office visit to discuss symptoms they've been experiencing because they are embarrassed.This is pretty understandable and I've felt that way myself but waiting until your symptoms have progressed doesn't help you. We all know that, of course, even though some things are really hard to talk about.If you're embarrassed about a medical condition or about symptoms you're having, know that many of us feel that way. Pick a doctor you feel safe with and get in for an office visit to discuss the problem. If you choose the doctor you are most comfortable with, you might find that it's easier to pick up the phone to make that appointment.
I'm Worried about Cost
If you have financial concerns that affect the medical treatment your doctor prescribes for you, talk to her about it. There are usually less expensive alternatives. Many doctors have good options available to assist patients who are burdened by medical costs.Communication is essential. Your doctor can't do her job unless you provide the information she needs. It is your responsibility to speak up about any financial issues that might interfere with following through on the medical treatment your doctor recommends for you.
Ask Questions
Full understanding of what a doctor tells you is key to good communication. This includes asking questions if you are confused.Doctors can speak in complicated medical jargon. If you don't understand what she is saying, ask her to explain it in a different way. You can say something like this, "I don't understand why you want me to take this medication or undergo this treatment. Would you please go over it again?"Be assertive and speak up. If you ask questions, most doctors will respect you for being invested in your care.If you don't understand why your doctor wants you to take a medication or have a test or procedure, ask for clarification.Full understanding will ultimately help you commit to your doctor's recommendations. This is part of getting the best medical care.
I Don't Want to Bother the Doctor
Some people are worried about bothering the doctor with questions or concerns. This is understandable because doctors are so busy, but try to keep in mind that this is what they are there for—to serve you. They can't do that unless you tell them what is going on with you.You must be courageous and speak up, ask questions, be honest about your symptoms and suppress the fear of burdening the doctor. I am intimidated by certain doctors too. What I have learned from my own experience and from interviews with doctors and health psychologists is to approach the doctor in a level-headed and confident fashion.Doctors are taught in medical school to relay information to patients with confidence. You can use the same method. How I handle it is by adopting a logical and confident manner. I act as if I do not doubt myself even though in some cases I wonder if I am reporting my symptoms or experiences correctly. I act as if I know what I'm talking about when I report what is happening with my body.I walk into the doctor's office with my health file in hand. I appear as if I am in control, even if I don't feel it. That is why I dress nicely to meet doctors I'm intimidated by. I approach the visit as if I would a business meeting. This increases my confidence.If all else fails, remember that you are paying your doctor to help you. Think about the bill you are going to receive at the end of the visit and muster the confidence to speak up.
Find a Doctor Who Speaks Your Language
Communication is essential for good medical care. If you do not speak the same language as your doctor and no one on her staff speaks your language, you can always bring in a family member to translate for you. However, many doctors said that family members are not translators and can misinterpret what the doctor is saying.
Stick to the Point
If you speak only about your top three most important medical concerns, it keeps you and your doctor on task. If you stray from the point with details from your personal life that do not pertain to your visit, you'll be wasting your valuable time with the doctor. If you veer off into what your friends and family members told you to do, you will lose the focus and attention of the doctor.However, it is important to let your doctor know if something important is affecting you—for example, if your parent or spouse just died and you're having trouble dealing with the loss. Your doctor will want to factor that into the overall picture.
Even Take-Charge Patients Need to Listen
Even if you consider yourself to be a medically savvy, take-charge patient, several doctors suggested that you stay open to what they have to say about your medical condition, diagnosis and treatment options. In the end it is up to you to decide whether to act on the advice you are given, but you owe it to yourself and to the physician to take in her opinion and mull it over. Allow the doctor to educate you even if you decide against what she has to offer. In the end, the choice is yours.A week after my mother died in 2001, my back went into spasm. I could barely move. I saw an orthopedist. After looking at my MRI, he immediately told me that I needed back surgery to correct two herniated discs. I listened to what this doctor had to say. I asked questions about his reasons for thinking I needed surgery and what surgery might do for me.I also listened to my gut feeling, which was that I didn't want or need back surgery. My mother had three of them and she ended up in a wheelchair. As I listened to what this doctor said, I paid attention to what I was feeling. My gut instinct was to get a second opinion.I went for a second opinion with a respected back surgeon who was affiliated with a major medical institution. He looked at my MRI, took x-rays, gave me an exam and said emphatically that I did not need back surgery. He explained that my herniated discs and degenerative disc disease were not debilitating and that I could live comfortably if I exercised enough. He explained that I could expect about one back episode a year.I did what the surgeon told me to do and acted on his direction because it made sense to me. I live relatively pain free with one or two minor episodes a year.
You Need to Be Listened To
Do you feel that your doctor listens to you? This is a very important aspect of the quality of communication with your doctor. If your doctor is not fully engaged with you, then something needs to change.
Martine Ehrenclou is a patient advocate and speaker. She is the author of
Critical Conditions: The Essential Hospital Guide to Get Your Loved One Out Alive
and
The Take-Charge Patient
.