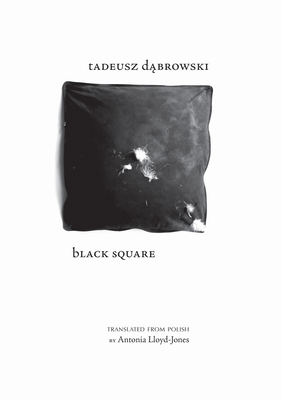 Black Square (New Polish Writing)
Paperback

* Individual store prices may vary.
Description
When in 2006 Tadeusz R zewicz won the Polish Culture Foundation's Golden Sceptre lifetime achievement award, he presented the Little Sceptre--awarded by the major winner to his favorite younger artist--to Tadeusz Dabrowski, with the words: "One day he'll swap his little sceptre for a big one."
A thirty-year-old boy solemnly convinced
of his own immortality.
A boy with blue-and-white skin like the marble
of heaven.
The boy who falls on me like the tombstone
of night. Like dreamless sleep.
Someone who promptly appears and disappears
like a black square on a black background.
Tadeusz Dabrowski was born in northern Poland in 1979. From his first volume, published in 1999, he has been critically acclaimed for poetry that combines a tone of metaphysical meditation with the theme of love. His poems are like snapshots taken by a sensitive camera that captures moments filled with the "caring absence" of God and intimacy with the woman the poet loves. Here we find gravity laced with humor and sublimity mixed with pleasure. So far Dabrowski has published five volumes of poetry in his native Poland, which have won him numerous awards. His work has appeared in translation in thirteen European languages. English translations of his poems by Antonia Lloyd-Jones have been published in several leading literary journals, including Agni, American Poetry Review, and Tin House. Black Square is his first collection to be published in English.
Antonia Lloyd-Jones is a translator of Polish literature. In 2008 she won the Found in Translation Award for her translation of The Last Supper, a novel by Pawel Huelle. Her other translations of fiction include works by Jaroslaw Iwaszkiewicz and Olga Tokarczuk. Her translations of poetry by Jacek Dehnel appeared in a recent anthology, Six Polish Poets, published by Arc Publications.
Zephyr Press, 9780981552163, 105pp.
Publication Date: September 20, 2011
About the Author
Born in 1979, Tadeusz Dabrowski is a Polish poet, essayist and critic. He lives in Gdansk. So far, Dabrowski has published four volumes of poetry, and edited an anthology entitled Poza slowa. Antologia wierszy 1976-2006 (slowo/obraz terytoria, Gdansk, 2006). He is editor of the literary bimonthly Topos, and a regular contributor to the Kultura Channel on Polish State Television. A translator of Polish literature, her published translations include novels by Pawel Huelle and Olga Tokarczuk, short stories by Jaroslaw Iwaszkiewicz, and non-fiction, most recently by Ryszard Kapuscinski and Wojciech Tochman. Her translations of poetry have appeared in periodicals including The Edinburgh Review.