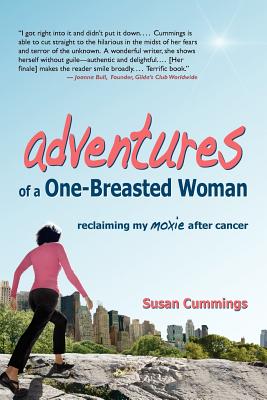 Adventures of a One-Breasted Woman (Paperback)
Reclaiming My Moxie After Cancer
Booksmyth Press, 9780981583075, 190pp.
Publication Date: September 25, 2012
* Individual store prices may vary.
Description
"You're cured now, " Susan Cummings's surgeon proclaimed to her a few weeks after her mastectomy. "That's it?" "That's it," her surgeon repeated. But, that wasn't it by a long shot for Cummings, as we learn in her memoir about her first six years after treatment for early-stage breast cancer. A single woman "progressing at lightning speed through her middle years" when diagnosed, a struggling New York actress, she takes us on her up, down and sideways adventures-sometimes poignant, often laugh-out-loud funny-as she wrangles with her fear of more cancer and shame of her altered body. But with indefatigable determination-from scouring the North American continent for the perfect health regimen to conducting a "beautiful breast survey" at the Metropolitan Museum of Art-she does reclaim her moxie.
About the Author
Susan Cummings is a writer and a twenty-year survivor of early-stage breast cancer. Once a newspaper reporter, she has since been published in a number of literary journals. Feeling alone and vulnerable after her mastectomy, she looked, in vain, for a memoir about another woman's experiences after cancer treatment. Eventually she wrote the book she had sought. She lived in New York City for many years, but is now settled in western Massachusetts.