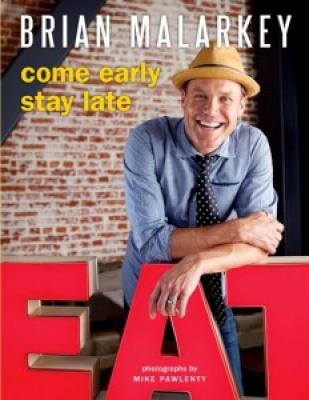 Come Early, Stay Late (Hardcover)
Chefs Press, Inc., 9780981622279, 220pp.
Publication Date: November 30, 2012
* Individual store prices may vary.
Description
Celebrity Chef and Restaurateur Brian Malarkey in his new cookbook, "Come Early, Stay Late," invites readers along his personal journey of discovery, while emphasizing that his food is — and always has been — about simplicity, taste, and good food bringing people together.



COME EARLY, STAY LATE is really five cookbooks in one. It features the best recipes from the core menus of five of San Diego's hottest new restaurants, along with selections of each restaurant's most popular desserts and cocktails. Inside you'll find recipes to fit every taste and every mood. The Searsucker section offers the restaurant's best-loved American classics, such as Whiskey-Braised Pork with Grilled Peaches and Baconnaise. If you're in the mood for something Asian-inspired, you'll love the Burlap chapter (Mussels Adobo, anyone?). If it's great Southern-inspired barbecue recipes you crave, such as a Tri-Tip Sandwich with Sautéed Mushrooms and Jalapeño Jam, then Gingham is the section for you. Great things to do with fish? Herringbone and Gabardine have the best (Lobster Risotto, Swordfish Caponata with Pickled Raisins and Tomato Fondue, and Scallops with Sautéed Corn in Frank's Butter Sauce, to name just a few…). No matter which section you choose, you'll be inspired to cook and share these simple and wonderfully flavorful recipes with friends and family all throughout the year.


Praise For Come Early, Stay Late…
Come Early, Stay Late shows Team Malarkey in playful behind-the-scenes pictures alongside photographer Mike Pawlenty's food porn....It is like looking at the secret playbook of some successful NFL team... and serves as the best-produced, full-color picture menu ever.--Keli Dailey, UTSandiego.com

"Malarkey's restaurants are frequently cited as some of the most exciting the city has to offer."

— Grub Street LA

"You might know this guy was the porkpie-hatted ham from a few seasons ago on 'Top Chef'; to us, he's the

Tasmanian Devil of the local dining scene, opening five restaurants in just over a year, each with its own

unique concept and fabric-themed name."

— WHERE SD

"Brian's casual style makes cooking effortless and his food is as good as he is cute."

— Andy Cohen, Executive Vice-President, BRAVO Network
or
Not Currently Available for Direct Purchase