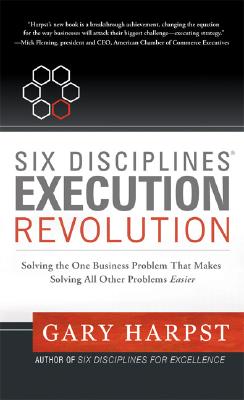 Six Disciplines Execution Revolution: Solving the One Business Problem That Makes Solving All Other Problems Easier (Hardcover)
Solving the One Business Problem That Makes Solving All Other Problems Easier
Six Disciplines Publishing, 9780981641102, 196pp.
Publication Date: July 1, 2008
* Individual store prices may vary.
or
Not Currently Available for Direct Purchase
Description
With all of the pressures successful business leaders have today, none is more urgent or challenging than learning the ability to execute strategy. While larger businesses have the luxury of budgets and resources to meet this challenge, it s the small and midsized businesses that now have a tremendous opportunity to level the playing field, leapfrog the expensive, outdated approaches of the past, and attack the challenge of execution in a revolutionary way. The key insights are: * Excellence is the enduring pursuit of balanced strategy and execution * Planning and executing, while at the same time dealing with the inevitable surprises, is the biggest challenge in business * Overcoming this challenge is what we mean by solving the one problem that makes all others easier * Failing to solve the problem destines your organization to a reactive, fire-fighting future.

Advertisement