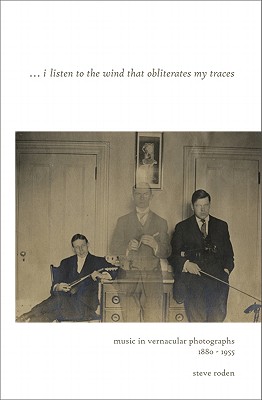 I Listen to the Wind That Obliterates My Traces: Music in Vernacular Photographs 1880-1955 [With 2 CDs] (Hardcover)
Music in Vernacular Photographs 1880-1955 [With 2 CDs]
Dust to Digital, 9780981734248, 184pp.
Publication Date: July 31, 2011
* Individual store prices may vary.
or
Not Currently Available for Direct Purchase
Description
Music is as self-reflexive as any of the arts, even if its generally greater power to transport sometimes deceives us into thinking otherwise. Dust-to-Digital's marvelously titled "I Listen to the Wind That Obliterates My Traces" compiles music, photographs and literary excerpts that reflect on or present music itself as subject matter, from the earliest days of the phonograph. Culled from artist Steve Roden's collection of thousands of vernacular photographs related to music, sound and listening, the many gems to be found in this book (and its accompanying two CDs) include accounts of the Barnum-esque Professor McRea ("Ontario's Musical Wonder" ) and anonymous African-American guitar players, and an amazing trove of photographs of early phonographs. Other images range from professional portraits to accidental double exposures, via photographic formats such as tintypes, ambrotypes, cdvs, cabinet cards, real photo postcards and albumen prints. The two CDs bring together a variety of recordings, including one-off amateur recordings, regular commercial releases and early sound effects records. An array of contemporaneous quotations on music and early music technology from writers such as Knut Hamsun, Vladimir Nabokov and Pär Lagerkvist, as well as an essay by Steve Roden, bind the volume's conception into a unique meditation on recorded music's earliest consciousness of itself.
Advertisement