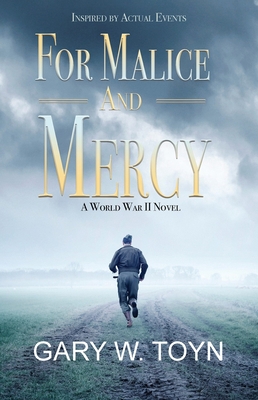 For Malice and Mercy
A World War II Novel
Paperback

* Individual store prices may vary.
Description
German immigrants Karl and Marta Meyer are loyal Americans, especially after an eye-opening visit to see their family during Hitler's pre-war rise to power. When America enters the war, the FBI arrests the Meyers as spies, then strips them of their citizenship, rights, and livelihood. They are banished to a German/Japanese internment camp, but then violently targeted by Hitler loyalists. Deportation back to war-torn Germany seems their only hope of survival. Their son Hank enlists in the US Army Air Corps, hoping his pay can save the family's home. After his B-17 is shot down, his ability to speak fluent German helps him evade capture. When the Gestapo is on his trail, he's pursued as a spy and faces certain death if they can catch him. His life depends on the daring plan of two unlikely collaborators. This meticulously researched novel reveals untold stories of legalized hatred and the cost of unjustified suspicion. For Malice and Mercy has great relevance for our day, weaving a spellbinding saga of treachery, survival, and unmerited forgiveness.
Praise For For Malice and Mercy: A World War II Novel…
"A well-researched, well written and interesting portrait. The story creates characters that the reader cares about, and their fates are by no means assured in the time of war; readers will keep turning the pages to find out what happens next." —Indiereader
 

"Not just a biography; it stands as a tribute to a nation that willingly thrust its most accomplished and capable young people into harm's way." —Senator Bob Dole (about The Quiet Hero)
 

"Offers an extraordinary peek into the making of one of our nation's most distinguished war heroes." —James Bradley, author, Flags of Our Fathers (about The Quiet Hero)
 

"The George Wahlen story is one of inspiration and motivation for all of us who came from humble beginnings and made the best with what God has given us." —Orrin Hatch, U.S. Senator (about The Quiet Hero)

 

"Gives the reader a compelling daily account of the hells of combat on Iwo Jima, 1945—one of the bloodiest battle in Marine Corps history." —Harlan Glenn, The History Channel (about The Quiet Hero)

 

"Well worth the [time] it takes to read. When you put it down, you will have been reminded about what selfless service and courage mean." —Leatherneck magazine (about The Quiet Hero)

 

"The author uses a matter of fact style that both chronicles and explains the forces and context which shaped George's life and actions. Military history buffs and those interested in Americans who have especially meaningful lives will love this book." —Heartland Reviews (about The Quiet Hero)
 

"This well-illustrated account of the intense battle that Wahlen and his fellow Marines went through is in stark contrast to Joe Rosenthal's calm, yet heroic photo of the raising of the flag on Mount Suribachi." —College and Research Library News (about The Quiet Hero)

"A World War II novel that stands out from the crowd, embracing facets of belief, prejudice, battle, and change in a manner that is multifaceted, complex, and satisfyingly realistic. No World War II fiction collection should be without this wide-ranging story of mystery, struggle, and social and political dilemmas." Midwest Book Review

"...dramatically engaging and unsettling...(it's) a disturbing, provocative, and vivid war tale that's loaded with lesser-known historical details." —Kirkus Reviews

"Foregoing imagery or figurative language in favor of speed, the book's sentences are concise, clear, and direct. The narrative leans on dialogue and action when it comes to communicating its background information, advancing the plot, and developing characters. The transitions between chapters, and perspective shifts, are immediate. . . . A sense of staccato movement reigns, complementing the rapid changes of a country at war." Foreword Reviews
American Legacy Media, 9780981848976, 584pp.
Publication Date: September 15, 2021
About the Author
Gary W. Toyn traveled worldwide for the U.S. Department of Defense, and is a former sports reporter covering the NBA and the Olympic games. He has written multiple books relating to inspiration and courage, teaming up with people like Stephen R. Covey, Bob Dole, Harry Reid, J. Willard Marriott, Jr., NFL quarterback Steve Young, among many others. His book, The Quiet Hero, was a national finalist for the IBPA Benjamin Franklin Award. This is his debut novel.