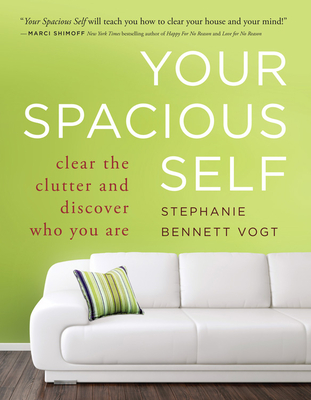 Your Spacious Self (Paperback)
Clear the Clutter and Discover Who You Are
Hierophant Publishing, 9780981877181, 224pp.
Publication Date: November 1, 2012
Other Editions of This Title:
Compact Disc (11/1/2012)
Compact Disc (11/5/2013)
MP3 CD (7/21/2015)
Paperback (5/1/2007)
MP3 CD (11/1/2012)
Compact Disc (11/1/2012)
MP3 CD (11/5/2013)
MP3 CD (11/1/2012)
* Individual store prices may vary.
Description
IT'S A JUNGLE . . . IN HERE!
Behind our stress, clutter, and confusion is an infinitely spacious place one might call stillness or joy. This is our natural state of being, but we usually don't experience it, because we are caught in a web of material possessions, desires, and fears.
Our clutter often becomes another member of the family that we feed, house, and lug around. In Your Spacious Self, author and professional space clearing expert Stephanie Bennett Vogt shows us that it's not our stuff but the holding on to it that creates a force field of stuck-ness that clouds our perceptions and paralyzes our lives.
Clutter is not just the junk spilling out of the closet. It is anything or thought that prevents us from experiencing who we truly are. With daily tips, meditations, and a decluttering checklist, Your Spacious Self will show you how to:

CLEAR THE CLUTTER in your home and in your life
REVEL IN YOUR OWN SPACIOUSNESS, a place of stillness and joy
LET GO OF THE PEOPLE, PLACES, AND THINGS that no longer serve the joyous being that you are
Radical in its message and elegant in its simplicity, Your Spacious Self offers a new model that combines the ancient wisdom of space clearing with the modern practicality of clutter clearing. It teaches us that clearing is not just something we do but is also a powerful way to be--one small step, drawer, or moment at a time.
About the Author

Stephanie Bennett Vogt is a leading space clearing expert, international speaker, and the author of Your Spacious Self. She brings over 35 years of experience to SpaceClear, the teaching practice she founded in 1996 to help homes and their occupants come into balance. Stephanie teaches her inspirational clearing programs worldwide, including at Kripalu and the New England School of Feng Shui, and shares her unique perspectives on simplifying, personal reinvention, and letting go in the Huffington Post, DailyOM, and other venues. To learn more, visit www.spaceclear.com.

Praise For Your Spacious Self: Clear the Clutter and Discover Who You Are…
"Stephanie Bennett Vogt's book is an enlightening combination of wisdom, humor, and common sense. It takes those daily (and sometimes annoying) tasks in home tending and transforms them into an experience that will open your heart and feed your soul." -Arielle Ford, author Wabi Sabi Love
— Reviews

"Your Spacious Self is a true gem. Stephanie Bennett Vogt's kind, wise, and honest teachings will guide and keep by you for a long time. Her clearing practices are worth the price of the book. I highly recommend it." -Marilyn Paul, Ph.D., author, international bestseller It's Hard to Make a Difference When You Can't Find Your Keys: The Seven Step Path to Becoming Truly Organized; www.marilynpaul.com
— Reviews

"Homes are like bodies. All they need is a little daily care to support well being to last a lifetime. And nobody shows you how to do this better than Stephanie Bennett Vogt." -Miriam Nelson, Ph.D., international bestselling author of the Strong Women books
— Reviews

"Your Spacious Self transformed my understanding of 'tidying up.' Never before did I view external clutter as a pathway to internal growth, as stuck energy, and as something that was separating me from my true essence. Before you tackle another closet, read this book!" --Susan Page, bestselling author of Why Talking is Not Enough
— Reviews

"Don't miss Stephanie Bennett Vogt's newly revised edition of Your Spacious Self, inspiring a unique approach to addressing the 'clutter' that permeates our inner and outer worlds. Stephanie is the real deal and masterfully guides us through a process that allows us to be fully present and joyfully connected - even in our most challenging moments. The tools shared are simple - the results are profound and will transform your life in the most unexpected ways. Enjoy!" -Amy Mims, Director, The New England School of Feng Shui
— Reviews