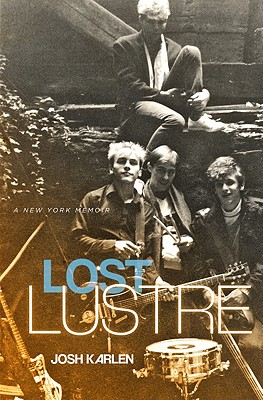 Lost Lustre: A New York Memoir (Paperback)
A New York Memoir
Tatra Press, 9780981932118, 250pp.
Publication Date: August 1, 2010
Description
Muggings on Avenue C, punk bands at CBGB, parties in a nascent SoHo, dropping out from the famous Music & Art High School. In this episodic, coming-of-age memoir, Josh Karlen chronicles growing up in New York's Greenwich Village and crime-ridden Alphabet City in the 70s and early 80s. Lost Lustre recaptures a New York suffering its gravest financial crisis and soaring crime, yet staging a spectacular resurgence of the arts. Karlen shares a fascinating personal history of the punk rock scene through the prism of The Lustres, a band that played venues that launched the Talking Heads, Patti Smith and the Ramones. In the title chapter, Karlen poignantly pays homage to the band's charismatic and talented lead singer, whose life in many ways seemed to mirror his times in both its shining creativity and nihilistically destructive force. Lost Lustre is a reverberant, strata-rich memoir, written with a relaxed and endearing fluency and modesty. I was engrossed. --Edward Hoagland, author of Notes from the Century Before.
Advertisement