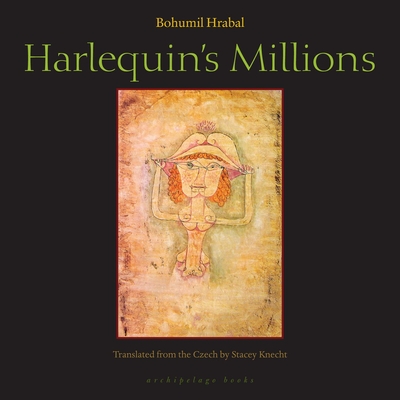 Harlequin's Millions (Paperback)
A Novel
Archipelago, 9780981955735, 260pp.
Publication Date: May 6, 2014
* Individual store prices may vary.
Description
By the writer Milan Kundera called Czechoslovakia's greatest contemporary writer comes a novel (now in English for the first time) peopled with eccentric, unforgettable inhabitants of a home for the elderly who reminisce about their lives and their changing country. Written with a keen eye for the absurd and sprinkled with dialogue that captures the poignancy of the everyday, this novel allows us into the mind of an elderly woman coming to terms with the passing of time.

Praise for Too Loud a Solitude:

"Short, sharp and eccentric. Sophisticated, thought-provoking and pithy." --Spectator

"Unmissable, combines extremes of comedy and seriousness, plus pathos, slapstick, sex and violence all stirred into one delicious brew." --The Guardian

"In imaginative riches and sheer exhilaration it offers more than most books twice its size. At once tender and scatological, playful and sombre, moving and irresistibly funny." --The Independent on Sunday

Praise for I Served the King of England:

"A joyful, picaresque story, which begins with Baron Munchausen-like adventures and ends in tears and solitude." -- James Wood, The London Review of Books

"A comic novel of great inventiveness ... charming, wise, and sad--and an unexpectedly good laugh." --The Philadelphia Inquirer

"An extraordinary and subtly tragicomic novel." --The New York Times

"Dancing Lessons unfurls as a single, sometimes maddening sentence. The gambit works. Something about that slab of wordage carries the eye forward, promising an intensity simply unattainable by your regularly punctuated novel." --Ed Park, The New York Times Book Review
About the Author
Bohumil Hrabal (1914-1997) worked as a railway dispatcher during the Nazi occupation of then-Czechoslovakia, a traveling salesman, a steelworker, a recycling mill worker, and a stagehand. His novels, which include Too Loud a Solitude, Closely Watched Trains, and I Served the King of England, were censored under the Communist regime and have since been translated into nearly thirty languages. He fell to his death from the fifth floor of a Prague hospital, apparently trying to feed the pigeons. The author lives in Czech Republic.
Praise For Harlequin's Millions: A Novel…
"A surreal and loquacious tale. . . . Billed as "a fairy tale," the novel, at times, fancifully confounds expectations. . . and Hrabal's long, lyrical sentences (each chapter consists of a single paragraph) are not only eloquently constructed, but also as spirited as the scenes they illustrate." --Publishers Weekly (starred review)

"[A] uniquely compelling blend of parable, fantasy, social realism and testament to the power of storytelling. . . . the voice of the narrator is spellbinding, even as the reader becomes less sure of her credibility. . . . An enchanting novel, full of life, about the end of life." --Kirkus Reviews (Starred Review)

"Hrabal's images and language, his anecdotes and precise observations create an exceptionally sensuous reverie about the passage of time. . . Hrabal elicits from his adult reader not just sweet Proustian melancholy but also a better, deeper appreciation of the bright but evanescent sunshine outside." -- Washington Post

"Knecht has guided this quiet book into an engaging, heartfelt experience without letting it drop into mawkish emofiction." -- Shelf Awareness

"You get to laze around in beautiful, page-long sentences deep with observation and memory. The rhythm and lyricism are powerful and subtle. I can't believe I'm writing this. It sounds like a book I would detest. And yet it stays perched at the top of my longlist." -- BTBA Judge George Carroll

"The song ['Harlequin's Millions'] infuses the book, a sad soundtrack to a novel that manages to be vibrant and wistful. Thanks to Stacey Knecht's expert translation, one of the 20th century's most inventive literary talents feels very much alive." — Malcolm Forbes, The Minneapolis Star Tribune


"Czechoslovakia's greatest living writer." --Milan Kundera

"Hrabal, to my mind, is one of the greatest living European prose writers." --Philip Roth, 1990

"There are pages of queer magic unlike anything else currently being done with words." --The Guardian

"Hrabal is a most sophisticated novelist, with a gusting humour and hushed tenderness of detail." --Julian Barnes

"What Hrabal has created is an informal history of the indomitable Czech spirit. And perhaps ... the human spirit." --The Times

""Bohumil Hrabal, for all reductive purposes, is the Czech Proust: meaning, he's of the same stirring brilliance, but also meaning that Proust is the French Hrabal. . . Few possess a voice as bold as any one of the many Hrabal has served up. . . What is not okay is to let him slip away from a mainstream eye, and stay reserved for readers looking to 'challenge' themselves." -- Tweed's Magazine of Literature and Art