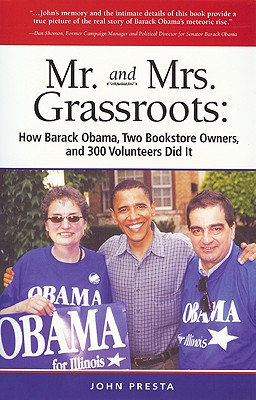 Mr. and Mrs. Grassroots (Paperback)
How Barack Obama, Two Bookstore Owners and 300 Volunteers Did It
Elevator Group, The, 9780981971964, 270pp.
Publication Date: January 20, 2010
* Individual store prices may vary.
Description
Chicago community activists John Presta and his wife Michelle were running their small, popular independent bookstore, Reading on Walden, when Barack Obama's campaign asked them to help in his 2000 race for Congress. Instantly impressed after meeting Obama, the Prestas came on board and stayed on board after his loss. An engaging, detailed, first person account of the Prestas' personal interactions with Obama and how they, together with Obama and his early campaign workers, slowly and steadily built a grassroots organization around a highly committed group of some 300 volunteers. The Prestas shortly became known as "Mr. and Mrs. Grassroots" in the Obama campaign, and Obama himself called them his "southwest side powerhouses." This book peels the layers off the early years of Obama's political career, detailing how he and individual grassroots and "netroots" organizers built a successful campaign despite the Chicago political machine and won the 2004 Senate race, causing immediate speculation about Obama for President. With great insight into a younger Barack Obama's character, vision, self confidence and determination, Mr. and Mrs. Grassroots shows how change comes slowly, gradually, incrementally, and suddenly, and how one person - or two - can make a difference that changes the world.
About the Author
John Presta, the son of Italian-born immigrants, was born and raised in Chicago, Illinois. He and his wife Michelle are community organizers and leaders. He worked at several newspapers, including the Chicago Tribune and Chicago Sun-Times, in such positions as typesetter, reporter, circulation manager, and ad sales. He is currently working on his next book in the Mr. & Mrs. Grassroots series.
or
Not Currently Available for Direct Purchase