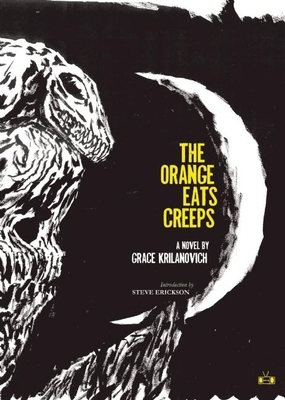 The Orange Eats Creeps (Paperback)
Two Dollar Radio, 9780982015186, 172pp.
Publication Date: September 7, 2010
* Individual store prices may vary.
Description
* National Book Foundation's '5 Under 35' Selection.
* NPR Best Books of 2010: A Hidden Gem.
* The Believer Book Award Finalist.
"The exhilaration of such a novel is nearly beyond calculation. If a new literature is at hand then it might as well begin here."
--Steve Erickson, from his Introduction "The book feels written in a fever; it is breathless, scary and like nothing I've ever read before. Krilanovich's work will make you believe that new ways of storytelling are still emerging from the margins."
--
NPR.org
"Grace Krilanovich's first book is a steamy cesspool of language that stews psychoneurosis and viscera into a horrific new organism -- the sort of muck in which Burroughs, Bataille, and Kathy Acker loved to writhe."
--
The Believer
It's the '90s Pacific Northwest refracted through a dark mirror, where meth and madness hash it out in the woods. . . . A band of hobo vampire junkies roam the blighted landscape--trashing supermarket breakrooms, praying to the altar of Poison Idea and GG Allin at basement rock shows, crashing senior center pancake breakfasts--locked in the thrall of Robitussin trips and their own wild dreams.
A girl with drug-induced ESP and an eerie connection to Patty Reed (a young member of the Donner Party who credited her survival to her relationship with a hidden wooden doll), searches for her disappeared foster sister along "The Highway That Eats People," stalked by a conflation of Twin Peaks' "Bob" and the Green River Killer, known as Dactyl.
With a scathing voice and penetrating delivery, Grace Krilanovich's The Orange Eats Creeps is one of the most ferocious debut novels in memory.
Grace Krilanovich has been a MacDowell colony fellow and a finalist for the Starcherone Prize.
About the Author
Grace Krilanovich (Author): Grace Krilanovich is a graduate of the California Institute of the Arts, where she received her MFA. She has been a finalist for the Starcherone Prize, has been nominated for a Pushcart Prize, published in Black Clock, and a fellow of the MacDowell Colony. The Orange Eats Creeps is her first novel. Steve Erickson (Introduction): Steve Erickson is the author of eight novels: Days Between Stations (1985), Rubicon Beach (1986), Tours of the Black Clock (1989), Arc d'X (1993), Amnesiascope (1996), The Sea Came in at Midnight (1999), Our Ecstatic Days (2005) and Zeroville (2007).
Praise For The Orange Eats Creeps…
"Grace Krilanovich's first book is a steamy cesspool of language that stews psychoneurosis and viscera into a horrific new organismthe sort of muck in which Burroughs, Bataille, and Kathy Acker loved to writhe."The Believer

"Krilanovich's work will make you believe that new ways of storytelling are still emerging from the margins."—NPR.org

"One of 2010's small-press triumphs."—The Week

"The Orange Eats Creeps contains the hallucinatory, disjointed, plotless, yet bizarrely charming ravings of a young refugee from foster care who now belongs to a pack of teenage hobo vampires that rove convenience stores and supermarkets high on Robitussin and mop buckets of coffee."—Newsday