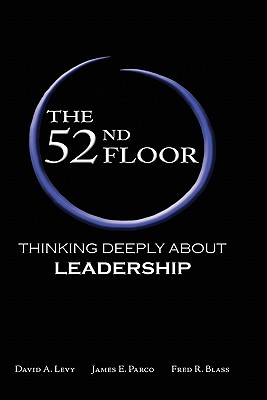 The 52nd Floor (Hardcover)
Thinking Deeply about Leadership
Enso Books, 9780982018507, 236pp.
Publication Date: May 1, 2010
* Individual store prices may vary.
Description
Anyone who has worked for a large organization understands that all bureaucracies demand to be fed. Some of these bureaucracies can develop insatiable appetites, and when they do, the defining aspect between success and failure is often good leadership. But what is good leadership? Leaders are responsible for making sense of the ambiguity that emerges from the complex relationships that define organizations. They provide the frames to help us understand what we see. But when meaning and purpose begin to fade from the day-to-day taskers, special projects and reports, we are left to wonder whether we are observing mere nonsense or something else we just don t understand. How can we know? We must ask questions -- good questions. Any meaningful attempt to understand the complexities of organizational life requires considerable reflection upon one's own thinking. Through a collection of stories, The 52nd Floor: Thinking Deeply About Leadership takes readers on a reflective journey where they can discover for themselves the right questions to ask to create a path to become a better leader. Welcome to the 52nd Floor. Reviews (Five stars) A must read for those who want a new approach to leadership.--Midwest Book Review (July 8, 2009) Thinking Deeply About Leadership is a perfect subtitle for this book. Why? Because as you read and get actively involved with the process which Levy, Parco, and Blass have created, you will think deeply about what leadership means to you. This book on leadership is all about you and your leadership point of view, not about the authors and their leadership point of view. Wow What a learning opportunity. --Ken Blanchard, Legendary Co-Author of The One Minute Manager & Leading at a Higher Level Whether in the locker room or the board room, on the field or in the office, leaders constantly influence behavior. This book is ideal for anyone who has ever wondered about what it means to lead. Levy, Parco, and Blass, have given us much to think about - their book is a winner --Coach Bobby Bowden, College Football Hall of Fame Leadership is certainly a subject that requires deep thinking because it determines success or failure in every human endeavor. The 52nd Floor is a non-traditional approach that provides the reader with a unique glimpse into leadership. A must read for those serious about developing as effective leaders. --Bill Looney, General (ret.), U.S. Air Force, Author of Exceeding Expectations An absolutely fascinating look into leadership. Levy, Parco and Blass have fully grasped the entire picture and spectrum of leadership that has taken me a lifetime to discern. This book will make you think . --Michael J.C. Roth, President Emeritus, USAA Investment Management Company It takes courage and imagination to write such a book. I can only hope that more will follow. I like the way the questions have been posed, how myths have been shattered, and the emphasis on thinking deeply rather than repeating trivialities. Very well done. --Amnon Rapoport, Ph.D., Distinguished Professor of Management, University of California-Riverside Bravo The authors have written a brilliant and wholly unique leadership book The inclusiveness and participatory nature of the book will inspire anyone who is interested in management. Once you get started, you won't be able to put it down --Robert N. Mishev, McKinsey & Co. Finally, a leadership book that will actually improve one's leadership The 52nd Floor sees leadership as a journey, a practice what real people do in real time to create practical value right now. Here is a natural and realistic practice that we can take to make our leadership journeys successful. --James R. Barker, PhD., Editor, Management Communication Quarterly.