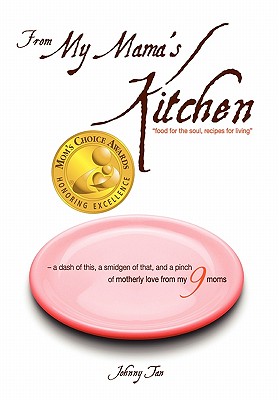 From My Mama's Kitchen (Hardcover)
Food for the Soul, Recipes for Living
THC Investments, 9780982023518, 150pp.
Publication Date: January 19, 2009
Other Editions of This Title:
Paperback (1/19/2009)
* Individual store prices may vary.
Description
Endorsed by the National Association of Mothers Centers and a gold award winner in the category of Inspirational/Motivational from the Mom Choice Awards(r), this book is about the power of unconditional love, women empowerment, and potent leadership. Through nurturing motherly love, moms have the ability to make a positive difference in the lives of their loved ones in the roles of teacher, coach, and counselor. The book offers a wealth of wisdom for good parenting skills and communicating more effectively. Adopted at birth in Malaysia, Johnny Tan later arrived in the United States at 18 to attend college. His life's journey led him to cross paths with several women whom he affectionately refers to as moms. His 9 moms insightful parenting skills and motivational words of wisdom helped him overcome the challenges of everyday living. The book pays tribute to moms all over the world in an entertaining, inspiring, and educational way. The kitchen is used as a wonderful backdrop because it is the heart of every home, and where Johnny and his moms enjoyed their many conversations. This book is designed as a keepsake for all occasions, meant to last and inspire forever. It includes a blank dedication page for readers to inscribe their own loved one's name, and a space where readers can record their recipes for living. At the very end of the book, Johnny incorporates nine of his favorite food recipe.