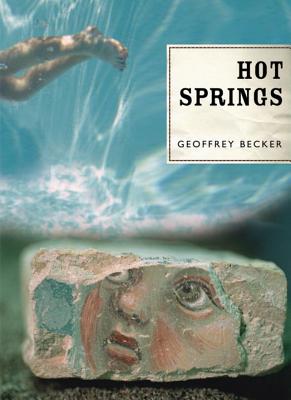 Hot Springs
Paperback

* Individual store prices may vary.
Description
Compelling and darkly comic, Hot Springs is the road-trip love story about a young woman who gave up her child for adoption and her quest, five years later, to steal the child back.
Vibrant, sexy, and quite possibly crazy, Bernice is determined to reclaim the child she gave up for adoption five years ago. She convinces her boyfriend, Landis, to help carry out her plan, but once the abduction is accomplished, Bernice—whose own mother was given to manic episodes and strange behavior—is plagued with doubts. Will Landis stay with her, given her volatile personality and his own drifter past? Will she and Landis both end up in jail for this crime? And, perhaps most importantly, will she fail at being a mother? Dovetailed with this is the story of the conservative Christian adoptive parents, Tessa and David, and the effect the kidnapping has on their troubled marriage. As Bernice and Landis journey across America, from Colorado Springs to Tucson to Baltimore, Bernice must confront her past and the secrets she has kept.
Praise For Hot Springs…
"Geoffrey Becker's fantastic Hot Springs works hard to conceal its own scope and ambition, but the book's coyness (not to mention its humor) only heightens the uncanny, moving power of the question at its core: When it comes down to it, how far will people go for love?...Throughout the novel, characters ignore their own better judgments, creating a thrilling psychological drama that unfolds alongside the external events and creates space for the unexpected on virtually ever page. Becker has a gift for surprises...Becker's technical expertise and natural storytelling gifts are difficult to deny, as is his admirably muted sense of the absurd...Of all the reasons to be excited about Hot Springs, though, the book's strange and fresh treatment of love itself is the best...it's a taut meditation on letting go and a convincing reminder that love, for all the destruction it can cause, can usually rebuild just about anything."Patrick Somerville, The New York Times Book Review

"In his incisive latest, Becker (2008 Flannery O'Conner Prizewinner for Black Elvis) recounts the misadventures of Bernice Click, a volatile young woman determined to raise the biological daughter she gave up for adoption. With the help of her boyfriend, Bernice kidnaps five-year-old Emily from her adoptive parents in Colorado and ends up in Baltimore, where she attempts to make a new life for herself and the girl. Meanwhile, Tessa Harding, Emily's adoptive mother, tries to recover Emily without involving authorities. Struggling with the revelation of her husband's indifference to the child, not to mention his adultery and increasingly sadistic behavior, Tessa embarks on a riveting adventure. The novel relies on a far-fetched coincidence to launch Tessa's mission, but resulting scenes are sufficiently tense and thought provoking to justify the stretch, while Becker's portrayal of Tessa's faith is moving and psychologically complex. As desperation mounts on all sides, Becker piles on devastating events, creating a remarkably taut narrative and a rousing testament to humanity's capacity for resilience. Nobody gets off the hook, though they do find uneasy deliverance in unexpected places."Publishers Weekly, Starred Review

"In Hot Springs, his rollicking new novel, Geoffrey Becker has assembled a delicate collage of damaged souls...Becker gives them to us with such earnest and empathetic insight that he makes us root for even the most ungracious among them."Rachel Rosenblit, ELLE

"The dichotomy of Bernice and Landis is the sort of thing that makes for great fiction..."Time Out Chicago

"Geoffrey Becker gets you in fast and deep to the humor and the danger of the situation." latimes.com

"Becker's skills as a writer grow increasingly apparent as he lures readers into understanding and empathizing with each of the book's characters despite their flaws and misdeeds."Colorado Springs Independent

"Becker also balances Hot Springs' momentum with keen insights, creating a terrific tension between the characters' hunt for faith and redemption and their more profane cravings."The Rumpus.net

"'Bernice was ten when her mother walked around the block naked,' Becker starts out, neatly drawing the reader into a world where the division between normal and crazy is razor thin."The Oregonian

"Becker is a phenomenal storyteller; only a writer of his caliber could have pulled this off so well."Sacramento Book Review

"As the plot unfolds, readers are inexorably drawn into the narrative and are compelled to keep reading to learn the ultimate outcome...Becker demonstrates great skill in depicting distasteful characters whose unhappy experiences are so morbidly fascinating and so bloated with perplexing uncertainty as to provide their own uniquely tainted attraction." Morton I. Teicher, ForeWord
"You won't trust a person in this book but it's hard to look away. People
may be feckless and unreliable in the big ways, but their longing for
children drives them without relent. Hot Springs is a road trip layered
with desire and mistake and the impossibility of keeping a secret from
rising through the years." Ron Carlson, author of The Signal

"Like the first dip into the searing mineral soup for which the book is named, the first pages of Hot Springs shock and lure...Ultimately, Hot Springs is a beautifully crafted novel with a tightly woven yet unconventional storyline...the characters shape and propel the plot, yet eventually, that plot allows for the full development of the characters themselves." Christy Corp-Minamiji, Blogcritics.com
Tin House Books, 9780982053942, 320pp.
Publication Date: February 16, 2010
About the Author
Geoffrey Becker's book of stories Black Elvis won the 2008 Flannery O'ConnorPrize for Fiction and will be published by the University of Georgia Press in the fall of 2009. He is the author of two previous books, Dangerous Men, a short story collection that won the Drue Heinz Prize, and Bluestown, a novel. His other awards and honors include an NEA fellowship, selection for the Best American Short Stories anthology, the Nelson Algren Award from the Chicago Tribune, and the Parthenon Prize. He teaches writing at Towson University in Maryland, where he also directs the graduate program in professional writing.